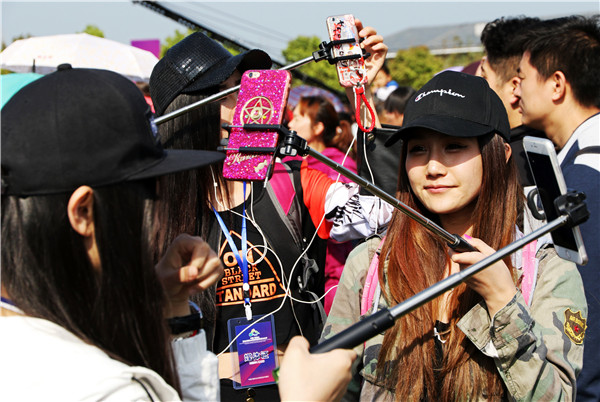 People, who are called "hosts", speak to their audiences through live video streaming platforms. [Photo/China Daily]
Last year witnessed an explosion of mobile live video streaming apps and platforms. The market initially opened up by a few entrepreneurs now sees more than 100 players competing with each other.
Traditional online live show platforms like Douyu, PandaTV and Huya no longer limit themselves to live streaming platforms specific to gaming, but are expanding into sectors such as sports, entertainment and online celebrity shows.
Emerging mobile live video streaming apps labeled as "pan-entertainment live shows" or "grassroots live shows", such as Ingkee, Huajiao, Easylive, have gained popularity among the post-90s and post-2000s generations.
As investors extend their olive branches to the sector, 108 of the 116 existing live video streaming apps have obtained financing, according to Nanfang Metropolis Daily.
The market value of online live shows was estimated at 12 billion yuan ($1.8 billion) in 2015, according to Huachuang Securities Co Ltd.
The market value is expected to reach 10 billion yuan by 2016, according to a report on China's live entertainment market for 2016 released by domestic consulting company Analysys.
Zhou Jian, general manager of YY Entertainment, told Nanfang Metropolis Daily that the interactive live show in the form of user generated content (UGC) can give users the space to develop their interests and meet young people's needs of showing, sharing and making friends.
"Using interaction to spur content, live video streaming can enjoy a so-called user bonus," Zhou said.
However, as domestic Internet giants such as Tencent Holdings Ltd, Alibaba Group Holding Ltd and Xiaomi Technology Co Ltd join the market fray, the blue sea is turning into competitive red.
"The reason why nearly all mobile live video streaming platforms in the market have received their angel round of financing is because companies without the financing simply cannot get into the sector," said an insider at Easylive, according to Nanfang Metropolis Daily. "Live video streaming giants spend more than 100 million yuan on bandwidth costs every month and the expenses on large servers are also costly."
Despite the high capital threshold, entrepreneurs and investors are jumping on the live video streaming band wagon for its profit mode.
"Based on the massive UGC and fan economy, the platform has strong profitability because fans are willing to pay for their favorite content," Zhou said. "And YY's earnings in recent years show that there are increases in both business revenue and users of live video streaming."
As to Internet companies that treat live video streaming as an extension of their business, it also brings them a new revenue growth point. For example, Momo's live video streaming business, launched last December, earned more than $15 million, or 30 percent, of Momo's net revenue in the first quarter for the company and has exceeded member revenue to become the company's largest source of revenue.
Bullish about the prospect of the live video streaming business, Zhang Juyuan, COO of PandaTV, said it is only a prelude to the era of live video streaming at the moment and that more platforms will mushroom in the future.
However, facing the homogeneity problems in the modes of live streaming and hosting shows, many platforms are trapped as to how to attract and keep users.
"We want to jump out of the homogeneous mode of live entertainment to explore diversification," the insider at Easylive said. "However, content on the platforms are not editable, which determines the difficulty of presenting quality content."
"There will only be several large-scale platforms that have quality content and hosts retained in the future," Zhou said. "But with its entertainment characteristic, live video streaming can exist in a more colorful and diverse way through segmentation in the fields of beauty, food and travel or innovation in interaction methods."