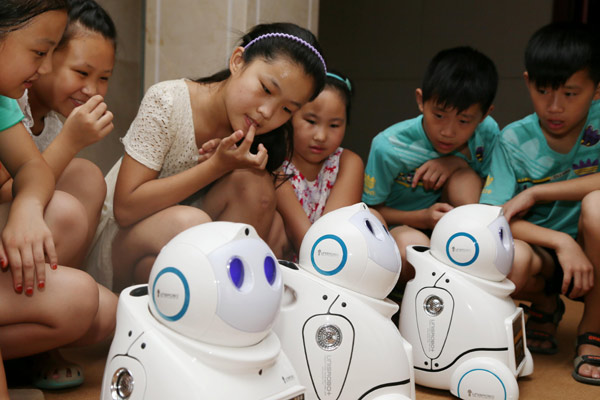 Students watch intelligent robots developed by a Beijing company for use in education, elderly care, household chores and security purposes. [Photo / Provided to China Daily]
Artificial intelligence remains one of the world's fastest-growing areas of industrial development, highlighted again in March when Google Inc's computer program AlphaGo beat the South Korean champion Lee Se-dol at Go, the ancient board game.
And the rapid success of one Beijing startup illustrates just how the specialist sector is now being applied across an increasing number of different application fields.
Officials at SenseTime Group Ltd (Beijing) said the company is developing AI technology for some of the country's fastest-growing firms, in sectors including security and surveillance, finance, education and robotics.
Yang Fan, managing director of the company, said SenseTime, which is still just two years old, is dedicated to spearheading research and development in what he calls "deep learning"-a revolutionary machine-learning technique that provides AI-led applications and big data analysis.
The demand for face recognition technology is far-outpacing present supply. As well as human face recognition, SenseTime is developing security technology focused on text and characters, body shapes and vehicles.
In layman's terms, deep learning is based on a complex combination of virtual neural networks and machine learning, which effectively mimic the way the brain functions, by sharing data and learning patterns.
"Human-face recognition is the most mature part of this type of technology," said Yang. "We can provide complete image and video analysis, too, and content extraction technology.
"Using those, we are heavily involved in working with the security and surveillance, finance, education and robotics industries," Yang added.
The fledgling Beijing startup already has dozens of highly trained scientists onboard, including graduates from Massachusetts Institute of Technology and Stanford University in the United States, the University of Hong Kong and the Chinese University of Hong Kong, as well those who have worked for international tech leaders such as Google Inc, Microsoft Corp, Baidu Inc and Lenovo Group Ltd.
That strong blend of skills has allowed it to establish effective working collaborations with other domestic heavyweights including China Mobile Communications Corp, China UnionPay, Huawei Technologies Co Ltd, Xiaomi Corp, Sina Weibo Corp and JD.com Inc.
SenseTime's CEO Xu Li has spent more than a decade working on computer vision and pattern recognition. He said the specialist area has never grown faster, nor offered more opportunities, to so many industries.
"Our deep learning is now very strong, and can be applied to many areas," he said.
Xu said his ambition is to make sure SenseTime competes directly with leading global IT names such as Google and Facebook Inc in deep learning research.