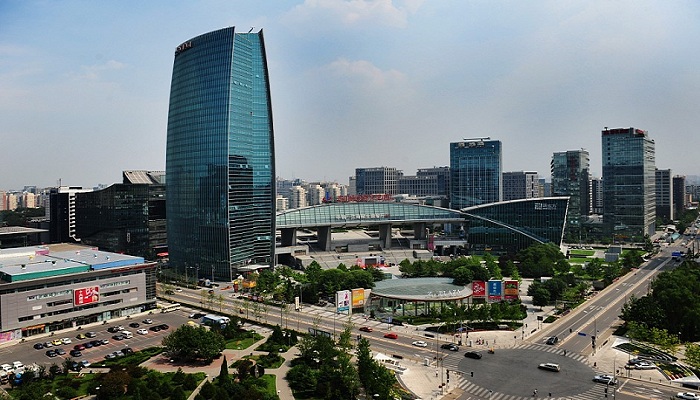 Zhongguancun sees an overall revenue of 503.56 billion yuan ($ 77.7 billion) in January and February of 2016. [Photo/zgc.gov.cn]
Zhongguancun Science Park is a multibillion dollar affair that is spearheading Beijing's technological innovation and contributing to Beijing-Tianjin-Hebei's coordinated development.
Established in 1988, it is the first national innovation demonstration zone. The park hosts more than 9,300 national-level high-tech enterprises, whose total revenue last year reached 4.08 trillion yuan ($623 billion), a 13.2 percent increase year-on-year, about 2.6 times than the figure in 2010.
Its contribution rate to the capital's economic growth has increased from 17.9 percent in 2010 to 36.8 percent in 2015.
"Over the next five years, Zhongguancun will support Beijing's evolution into a national technological innovation center and make contributions to the Beijing-Tianjin-Hebei coordinated development," said Liu Hang, a member of the Administrative Committee of Zhongguancun Science Park.
The park boasts the world's second-largest number of most valuable tech startups. The number of so-called unicorn companies-tech startups valued at more than $1 billion each-has reached more than 40, second only to Silicon Valley in the United States.
Moreover, companies in the park applied for 60,603 patents last year, up 38.4 percent year-on-year. Its international influence has been further enhanced by global interest in it.
"Intel Corp, Microsoft Corp and Siemens AG have established subsidiaries, R&D center or incubators here. More than 200 companies among the Fortune Global 500 firms have set up branches," according to Liu.
The state-of-art enterprises there are speeding up their overseas expansion, establishing R&D centers overseas and carrying out overseas mergers and acquisitions, Liu added.
Enterprises at Zhongguancun Science Park are actively participating in the Beijing-Tianjin-Hebei coordinated development, and the park's successful experience in technological advancement and policy innovation could be promoted to the whole country, Liu said.
Zhongguancun is making efforts to build up a community of Beijing-Tianjin-Hebei coordinated and innovative development, focusing on forefront information, biological health, energy efficiency and environmental protection, manufacturing innovation and new materials.