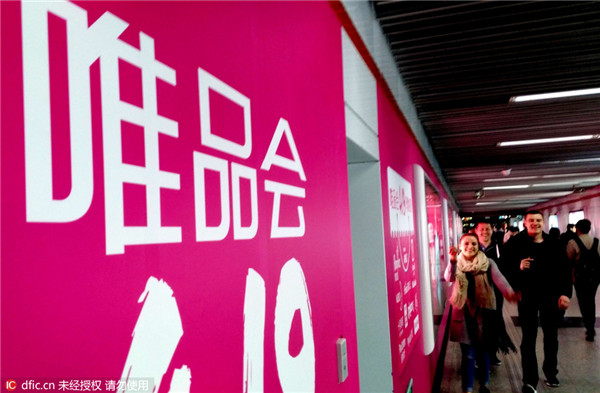 An advertisement for Vipshop in Shanghai. The company's latest financial report shows $1.83 billion revenue in the first quarter.CHINA DAILY
Vipshop Holdings has remained profitable for 14 consecutive quarters, according to an unaudited financial report released on May 18.
The published financial results for the first quarter of this year show that the total net revenue of the Guangzhou-based online flash sale operator exceeded 12 billion yuan ($1.83 billion), an increase of 41 percent from the same period a year earlier.
The company's gross profit amounted to nearly 3 billion yuan, up 38 percent, and income from operations increased by 51 percent to 596 million yuan.
The non-GAAP (Generally Accepted Accounting Principles) net income attributable to the company's shareholders rose 28 percent from last year's first quarter to 623 million yuan.
The company also witnessed significant growth in its number of active users during the first quarter compared with the same period a year earlier, increasing from 12.9 million to 19.7 million, thanks to its "upgraded business models, improved logistics, innovative marketing approaches and the use of mobile big data and other internet technologies", according to the company.
The report also shows that Vipshop received 58.7 million business orders by the end of the quarter, an increase of 53 percent.
Shen Ya, chairman and CEO of the company, said such financial performance reflected "Vipshop's strong attraction to both customers and brand partners".
"After several quarters of practice, our upgraded business strategy has effectively balanced the revenue growth and the marketing expenditure to ensure a more solid and robust growth in future," Shen said.
"We believe that Vipshop will continue to be profitable and create sustainable value for shareholders by providing high-quality services and a one-stop shopping experience to its nearly 20 million active members," Shen added.
Yang Donghao, chief financial officer of the company, said with its strong operation capacity, Vipshop can use its profit to further increase sales and expand its market share, with an aim to raise operating profit margin and maintain a stable gross profit margin.
On March 25, the flash sale operator launched a "cross-border cooperation" between the e-commerce and entertainment industries. It appointed Jay Chou, a popular Taiwan musician, as its chief jingxi (surprise) officer and started a series of jingxi promotions.
Earlier this month, the company announced it would upgrade its international business sector to offer more high-end and popular overseas products to Chinese customers. According to Analysys International, a Beijing-based internet consultation firm, the sector is already China's third-largest business-to-customer cross-border sales platform for imports, accounting for over 15 percent of the country's market share.
Sticking to purchasing products directly from the place of origin, the sector has set up professional buyers in 11 countries and regions worldwide.
It also boasts 12 overseas warehouses and 11 Chinese bonded warehouses to guarantee fast and flexible product delivery. Established in September 2014, orders in the sector have increased more than 100-fold from the first year.
Vipshop will continue to improve its "last one kilometer" delivery service by using a more precise GPS system and diverse mobile payment technologies.
The company predicts that its net income will reach between 12.3 billion yuan and 12.8 billion yuan in this year's second quarter.