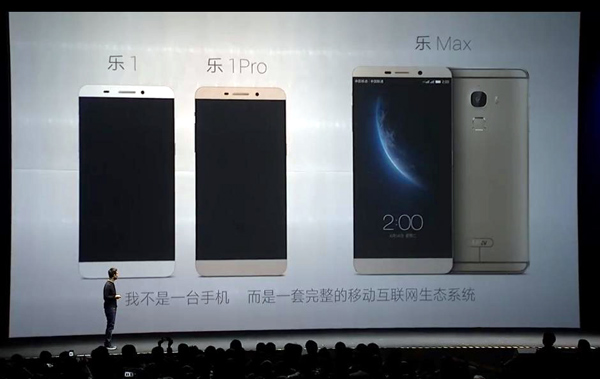 Jia Yueting, founder, chairman and CEO of LeTV speaks during the company's smartphone launching ceremony held on April 14, 2015 in Beijing. [Screenshot from ent.letv.com]
Chinese video streaming site Letv debuts three devices powered by the company's newly launched EUI system on Tuesday in Beijing.
The company unveiled the three phones - Le One, Le One Pro and Le Max - with an eye on the country's red-hot smartphone market.Jia Yueting, founder, chairman and CEO of LeTV, described the phones as "breathtaking" smartphones.
"They are breathtakingly beautiful, breathtakingly fast and have so many utility features that can be experienced when the screen is turned on," he said during the launch ceremony.  
Pricing from 1,499 yuan($241), the devices' first 200 thousand mass-produced units will start their pre-order processes since May 5.
According to Jia, Le superphone is the world's number one smartphone that provides motion conversation. "It allows real-time zooming on videos ... when you watch a video on your phone, normally you cannot zoom-in or zoom-out, iPhone cannot do that, but Le superphone can,"Jia said.
"When you watch a soccer game, a player kicks a ball, you do not know whether the ball has gone in the goalpost or not. If you can zoom-in, you can see the details, and you will know whether the player has scored the goal or not."
"It will be a great future for live streaming of sports event,"Jia added.
As of now Le superphone has no competition, and we hope that there will be one someday to help us improve our products, he said.
At the launch event, Apple's iPhone was used to compare the features between the two smartphone brands.
"The Le Superphone range is redefining the mobile experience for the connected age and offering consumers a better way to get the most out of their mobile devices," Mark Li, vice-president of Letv Holdings, told China Daily in San Francisco, before the launch event. "It will be available in the US market later this year."
Le Superphone will offer "a better way to plug-in" by using USB-C connections, he said. "This adapter is a flexible USB that charges faster and moves data more quickly, demonstrating Letv's ability and desire to lead smartphone innovation," Li said.
Another feature is the device screen's "dynamic color range", which also allows users to adjust the color settings, as well as "enhanced audio controls" and "hi-fi-audio quality", said JD Howard, vice-president of Letv's international mobile business.
"US users are hungry for something different. In the smartphone space, everything begins with innovation," Howard said.
The Le Superphone will "aggressively" compete with other smartphones in the market in its innovative design, color and sound aspects, he said.
Lia Zhu in San Francisco contributed to the story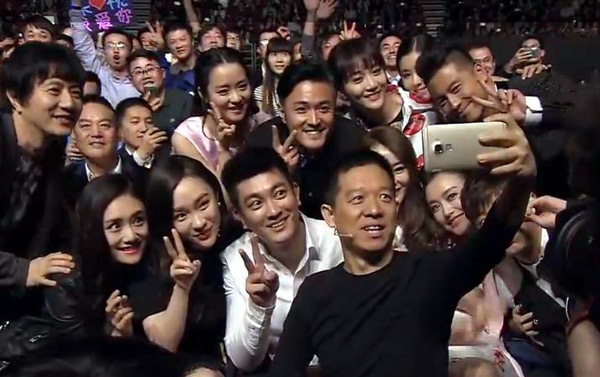 Jia Yueting, founder, chairman and CEO of LeTV takes selfie with audiences during the company's smartphone launching ceremony held on April 14, 2015 in Beijing. [Screenshot from ent.letv.com]