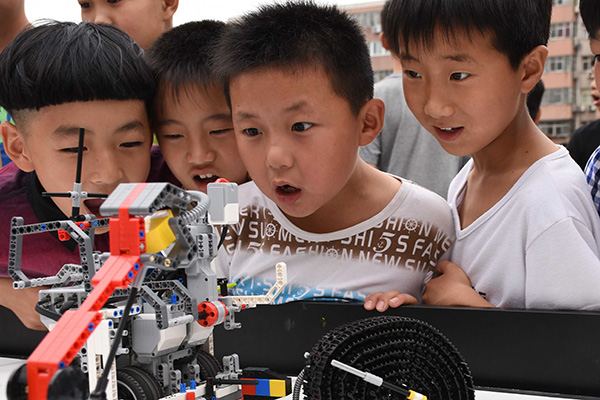 The Chinese government is encouraging the country's robotics wunderkinds to study hard and eventually turn their research into commercial products. [Photo provided to China Daily]
Brilliant young engineer Hu Tianlian once faced a dilemma. Hu was a lecturer at China's Southwest University of Science and Technology, where he also pursued the design of robots for remote operation in dangerous industrial environments. In 2012, he founded Fude Robot Co. But there wasn't enough time in the day for both pursuits.
So he quit lecturing. "There was no going back," Hu said.
For this robotics wunderkind, a new policy giving academics three-year sabbaticals to start businesses came just too late, but many more like him stand to benefit.
The guidelines were announced by the State Council in February in the hope of spurring scientists to turn their academic research into commercial products, boosting the economy.
They also required universities and scientific institutes to consider commercial achievements when assessing students and members for academic honors. And academics that license their research to an enterprise are now entitled to at least half the proceeds from any resulting products.
"I would have been able to continue teaching, had this happened earlier," Hu said.
In 2015, the Chinese economy grew at its slowest rate in a quarter of a century. Facing the slowdown, the country's leaders have been encouraging entrepreneurship and mass innovation, hoping they can become "twin engines" of economic growth.
Universities are of course hotbeds of creativity, but there was previously little incentive or possibility for academics to try to capitalize on their creations in the market. Why give up a comfortable, prestigious job to take a chance in the notoriously risky world of entrepreneurship.
China already has thousands of tech business zones, many affiliated to universities, which offer preferential policies for startups.
But according to official figures, only 10 percent of scientific research achievements are being converted into commercial products, much lower than the 40-percent rate in developed countries.
Chu Jianxun, an associate professor with the University of Science and Technology, described the State Council's announcement as "inspiring."
"The policies free scientists from their posts while exempting them from the worry of losing their previous jobs. This gives them an opportunity," he said. "They no longer need to put all their eggs in one basket."
Chu is also positive about commercial success becoming a criteria for academic assessment.
"In high schools and academies, scientists are mostly evaluated on exam results and dissertations," he said. "With most of them doing work that is not at all productive, maybe only five out of 100 scientists are coming up with anything entirely original. Only by liberating the other 95 from the academic treadmill can we see the progress we want in society."
The Shanghai Institute of Materia Medica started considering commercial success during performance evaluation last year.
Ye Yang, deputy director of the institute, told media that its goal was 200 million yuan ($30.64 million) in profit. But to his surprise, the institute converted 15 academic achievements into products with a total contract value of 800 million yuan.