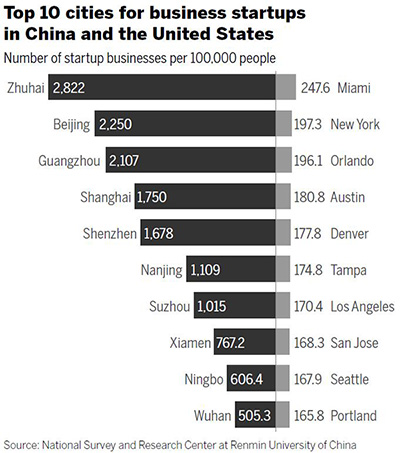 A favorable climate for entrepreneurship has boosted startup activity in China, though the quality of business creation still needs to be improved, according to a study by the National Survey and Research Center at Renmin University of China.
According to the research, which studied startup activities in 21 Chinese cities last year, the number of startup businesses per 100,000 people far surpassed the equivalent figures in the United States.
For instance, the coastal city of Zhuhai in Guangdong province ranked No 1 with 2,822 new businesses created per 100,000 people last year, while in Miami, the top US city, the figure was 247.6.
Still, the comparison doesn't mean China has outperformed the US in entrepreneurial activity, said Yuan Wei, director of the center at Renmin University of China, because of the relatively low quality and lack of innovativeness of new businesses in China.
"It showed that the passion to start up their own businesses among college students or current employees has increased sharply in China, not necessarily that China is taking the lead," he said.
"Economic development in the US has passed the era of pursuing growth in the quantity of new business and focuses consistently on the quality of innovation, while China is still progressing."
Inspired by a series of favorable policies and government support, business creation has boomed in China as the country encourages entrepreneurship and innovation as an economic engine.
According to the State Council, the number of newly registered companies grew to 4.4 million in 2015, a 21.6 percent year-on-year increase.
Among all the 2,100 businesses it surveyed, almost a quarter started up last year, more than the combined number of companies created from 2000 to 2009.
Wang Naichen, chief executive of business incubator Alphawolf, which specializes in the IT sector, said lower taxes and simplified approval procedures for new businesses have helped more people like him start chasing their dreams.
In 2015, China cut more than 300 billion yuan ($46.1 billion) in taxes to boost entrepreneurship and innovation, according to the State Administration of Taxation.
With the reform of industrial and commercial registration, 85 percent of approval items were simplified by the end of 2015. People can now get a business license before going through administrative approvals.