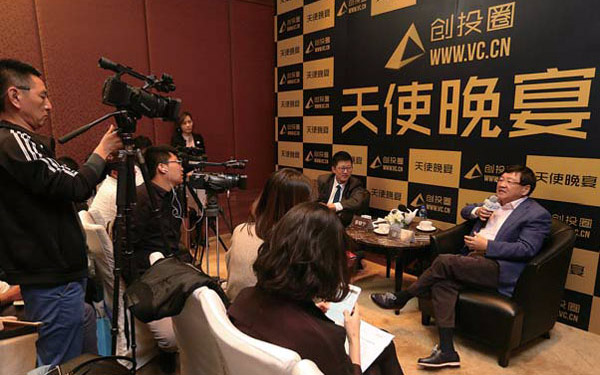 Li Xiaoning, founder of vc.cn, shares his insights with Xu Xiaoping (right), founder of ZhenFund, during an interval of an "angel dinner". [Photo/Provided to China Daily]
Venture capital firms invest in 1,555 China deals, with investment funds totaling $37 billion
Startup companies from China made a record in terms of financing value from venture capital investors last year, with encouraging policies, ample sources of capital and a strong entrepreneurial spirit seen as the factors driving this.
According to London consultancy Preqin Ltd, venture capital firms invested in 1,555 China deals and their investment funds totaled $37 billion, more than double the previous year's total.
"Encouraging policies on entrepreneurship are an important reason for the boom in startups," said Xiong Gang, chairman of ASBVentures (China) Holdings Ltd.
"Different from other countries, the Chinese government offers funds as well as system arrangements."
On March 5, Premier Li Keqiang mentioned the concept of the "Internet Plus" when delivering the annual Government Work Report. The State Council also released a guideline in September to accelerate its exploration of new models to promote innovation and entrepreneurship.
According to Xiong, China was aiming at industry transformation and upgrading, so the innovation demands of both traditional enterprises and startup companies were strong.
"With 30 years of wealth accumulation, Chinese people have ample capital resources and investing in start-up companies has become a means of wealth management," said Xiong.
Funds available for China's private investors would total 114.5 trillion yuan ($18.46 trillion) at the end of this year, according to the report, released by Forbes magazine and CreditEase Corp.
Song Qingsong, founding partner at Beijing-based venture capital firm Junda Capital, said that the United States has been a global technology leader because of strong innovative and financial capabilities.
"But China is becoming a new leader because of its rapid economic development and mass entrepreneurship environment," said Song.
According to Song, many Chinese institutions and talents are participating in start-up business, which attracted venture capital funds at home and abroad.
"Chinese high-tech companies, especially Internet companies, have been global leaders and this trend will not change," said 31-year-old Liu Chunhe, founder and CEO of the Beijing-based New-Born Town, the fast-growing developer of mobile-based search platform Solo System.
The company recently completed a new round of financing, with its valuation reaching $500 million.
According to Liu, many Chinese Internet companies including start-ups were stepping up the pace of their globalization.
"China's capital markets also provide us with a good method of financing," said Liu.
But Xiong Gang said as China is full of capital, the prices of investment deals were not cheap, but good deals would be always popular.
Xiong also said Chinese investors should pay more attention to medium- and long-term investment, and recognize the risks in the venture capital business.