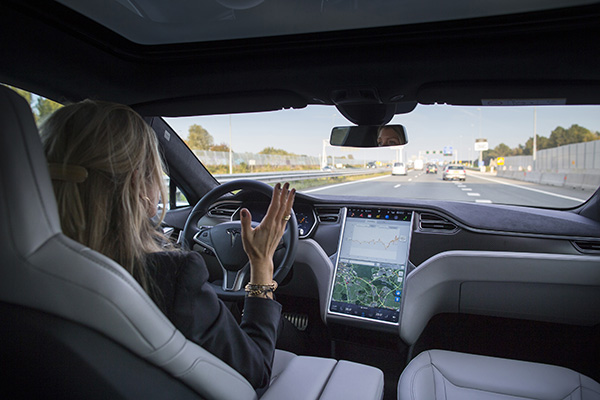 A woman tries out the hands-free wheel in a Tesla Model S electric automobile, equipped with autopilot hardware and software, on a highway in Amsterdam, the Netherlands, in 2015. [Photo/Agencies]
China's Internet and tech giants are driving autonomous car technology that brings 'disruptive innovation' to the automobile industry
Self-driving or driverless vehicles may sound like science fiction, but for some of the technology's advocates, including major automobile companies, the real question is when and how they will become a commercial reality.
They are convinced that computers have the potential to make better drivers than humans. For one, computers don't get drunk or fall asleep while at the wheel. For another, they can respond much faster than human brains at times of emergencies.
That is not all. Computer-driven vehicles can free drivers' bodies and minds.
China's Internet giant Baidu Inc demonstrated the many uses of this futuristic technology in a recent road test.
Its prototype car, which has been under development as part of its tie-up with German premium carmaker BMW AG, can turn the steering wheel itself while the person in the driver's seat can relax, hands happily up in the air.
In December, the Beijing-based Baidu set up a business unit dedicated to the development of autonomous driving technology. Baidu is part of a growing number of companies, ranging from carmakers to mobility service providers such as Uber Technologies Inc and Didi Kuaidi, that are getting their hands dirty in the global wave of R&D of autonomous driving technology.