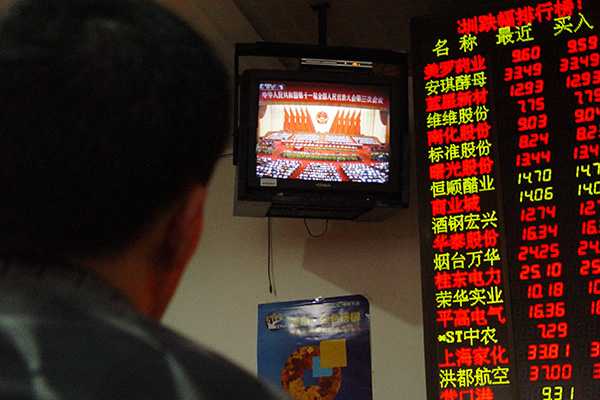 Great expectations of economic reforms is likely to fuel a rally in the domestic securities market in the coming weeks. [Photo provided to China Daily]
Policy clarity and details of efforts to stabilize economic growth expected by next week
Market-people think any fresh policies aimed at stabilizing economic growth could fuel a rally in Chinese equities that could last till April-end and, perhaps, even beyond.
The two sessions of China's top lawmakers and political advisors, which started last week in Beijing and will end on March 16, are expected to debate key government reform plans before approving them.
Clarity will likely emerge only next week, which could spark the expected rally.
So, in the run-up, the benchmark Shanghai Composite Index rose 3.8 percent last week, paring its overall loss this year to 18.7 percent.
China's stock markets have been undulating, and at times yo-yoing, ever since the summer rout of June 2015. Investors' frayed nerves were calmed only recently by a stabilizing renminbi, an accommodative monetary policy aimed at supporting a recovery in the housing market and Beijing's improved communication.
Premier Li Keqiang delivered the Government Work Report on Saturday in front of the delegates of the country's top legislature, the National People's Congress. He reiterated Beijing's commitment to continued structural reform, and emphasized trimming of industrial overcapacity and lightening tax burdens on companies as the current environment is challenging.
Li said that tax cuts this year would be more than 500 billion yuan ($76.6 billion)which would benefit companies and individuals. To offset the impact on overall figures, the government has budgeted a 560-billion-yuan increase in fiscal deficit to 2.18 trillion yuan or an unprecedented 3 percent of GDP.
"... China will face more and tougher problems and challenges in its development this year, so we must be fully prepared to fight a difficult battle," Li said in his speech.
Some investors found relief that Li's report did not mention the launch of the registration-based initial public offering system. There have been fears that the new system could pressure the market with a huge supply of new shares.
Liu Shiyu, the newly-appointed chief of the securities regulator, said on the sidelines of the NPC session that in order to restore investors' confidence and better protect their interests, the regulator will strictly enforce the law and step up oversight of the stock market.
Wendy Liu, chief China strategist at Nomura Securities, said, "Details on supply-side reforms will strengthen investor confidence that Beijing is taking action on economic reforms."