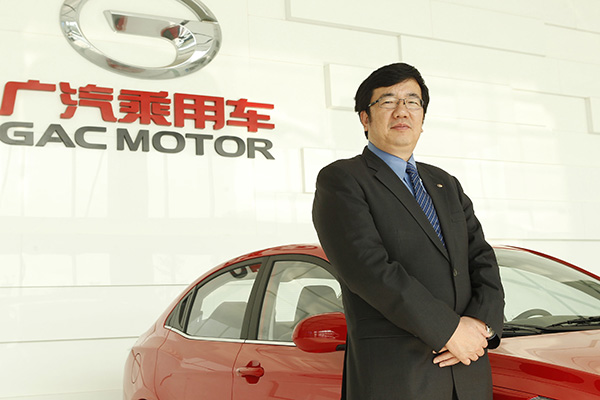 Wu Song, executive director, GAC Group, and director and general manager, GAC Motor. [Photo provided to China Daily]
Wu Song, GM of GAC Motor, thinks foreign brands' days are numbered
The man responsible for making made-in-China cars popular in China, a market hitherto dominated by foreign brands, clearly remembers how the bestselling Chinese model got its name Trumpchi. The story goes back nine years.

Wu Song, 52 years old, executive director of GAC Group, and director and general manager of GAC Motor, was on a business trip to Northeast China. "I was deeply moved when I listened to a Chinese song, Chuanqi (Chinese for Legend), during a taxi ride."
'Trumpchi', which sounds similar to 'Chuanqi' in terms of pronunciation, sprang in Wu's mind as a potential brand name for homegrown vehicles to be produced by GAC Motor Co, an enterprise that was still on the drawing board.
Wu was then working with Guangzhou Automobile Group Co, the parent of GAC Motor Co. In 2007, he was asked to lead a team in developing a brand for a new homegrown vehicle. For Wu, at first it seemed like a mission doomed to fail.
"Building a Chinese homegrown car brand was so challenging because the market was dominated by foreign companies," said Wu.
But Trumpchi sales grew rapidly, especially in the last few years. Today, it is a household name in China.
The numbers tell its story. From 17,000 units in 2011, Trumpchi's first year, sales progressively surged to 190,000 units in 2015. That's a whopping more-than-1,000-percent rise over a four-year period!
In January this year, GAC Motor sold more than 33,000 units of Trumpchi-branded cars, up 300 percent year-on-year, according to a company source.
"We realized the dream of building a world-class homegrown car by stressing on quality and technology, which are always among the top concerns for a Chinese carmaker," said Wu. Such talk make create an impression that Wu is a lifelong automobile expert. But he wasn't like this always.
Wu first worked as general manager with a State-owned steel company for more than 10 years. From there, he moved to a startup focused on genetic engineering. A couple of years later, in 2002, the auto world sucked him in.
He joined Guangzhou Automobile Group, based in the capital of Guangdong province, South China. "I didn't major in automobile engineering. But then, I always tried to challenge myself," Wu said.
One of his initial major assignments was to build an auto engine factory, a joint venture project with Japanese carmaker Toyota. "We learned a lot during that project, from technology research and capital control to corporate management."