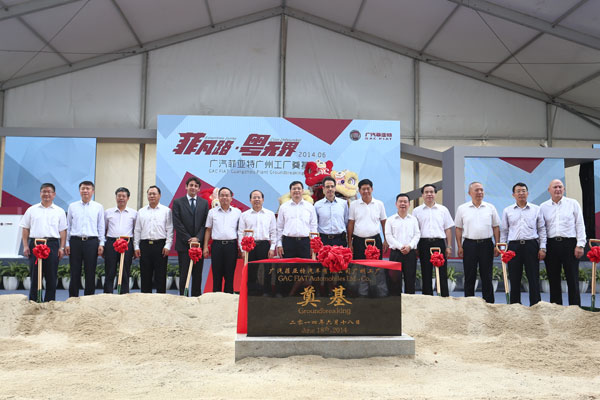 Attendants pose for a photo at the GAC Fiat Guangzhou plant's ground-breaking ceremony on June 18, 2014 in Guangzhou, Guangdong province. [Photo provided to chinadaily.com.cn]
GAC Motor looks to capitalize on growing opportunities from the Belt and Road plan to boost presence in overseas markets, reports Qiu Quanlin in Guangzhou.
State-owned GAC Motor Co Ltd, a division of Guangzhou Automobile Group Co Ltd, continued to expand its global presence amid a slowdown in the export of domestically made vehicles during the first five months of the year.
According to Wu Song, general manager of GAC Motor, the company plans to boost sales in overseas markets this year, especially in countries and regions along the 21st Century Maritime Silk Road and the Silk Road Economic Belt.
"Based on the self-developed brand and technologies, we are making great efforts to increase our presence in the overseas market even though China's car exports declined," said Wu.
According to customs statistics, China exported 334,000 vehicles in the first five months of the year, down 9.1 percent year-on-year.
In April alone, China's exports of cars were down 22 percent year-on-year, according to the China Association of Automobile Manufacturers.
According to Shen Danyang, spokesman for the Ministry of Commerce, auto exports dropped in emerging and resources-dependent markets as the economies in these markets were hurt by the fall in oil and commodity prices and most of the local currencies underwent considerable depreciation.
"Although the outlook for Chinese car exports remain grim, we believe that home-developed brands with advanced technologies will have great potential in the overseas markets," Wu said.
Though Japanese and South Korean brands have reduced prices in overseas markets, it should not act as a detriment for Chinese home-developed cars, he said.
"The sluggish market will, instead, prompt Chinese car producers to boost brand promotion and adjust product and price structure."
According to Wu, GAC Motor is adjusting its prices in the Middle East, aiming to remain competitive in the market.
From a long-term perspective, Chinese home-developed car producers will benefit directly from the Belt and Road Initiative, which was launched to facilitate ties and infrastructure connectivity among the countries and regions along the trade routes, Wu said.
"The Belt and Road Initiative will help realize huge market potential for Chinese car manufacturers, with a focus on high-end vehicle manufacturing," said Wu.
The company has set an ambitious goal-to export 20 percent of its cars to the overseas market by 2020.
GAC Motor, which was established in 2008 focusing on development of self-owned brand vehicles, is expected to sell 160,000 vehicles both in the domestic and overseas markets this year, up almost 40 percent year-on-year.
"Steady improvements in quality and safety can help Chinese car producers offset the downtrend in export markets," said Wu.
Orders for GAC's GS4 sport utility vehicle, which boasts high-end technology and design, has reached more than 20,000 units since it was unveiled in April during the Shanghai Auto Show, according to Wu.
"In the overseas market, we will give priority to countries and regions along the 21th Century Maritime Silk Road and Silk Road Economic Belt, which provide rising market potential for Chinese vehicles," said Wu.
After officially launching sales in Kuwait and Dubai in 2014, the company continued to expand in the Middle East, with sales being expanded to Lebanon and Qatar in May.
Sales of GAC Motor vehicles in Kuwait last year doubled that in 2013, according to the company.
Qatar, with a per capita income of more than $100,000, is a major market for high-end vehicles. A majority of the international car producers have launched sales in Lebanon.
"Entering the markets in Qatar and Lebanon will be of great significance for us to compete with major international car manufacturers," Wu said.
In Qatar, GAC Motor worked with local sales giant DOMASCO, or Doha Marketing Services Company WLL, which also sells world-renowned brands including Honda and Volvo.
In cooperation with Bazerji Motors, GAC Motor is expected to expand sales in the fast-growing Lebanon market, according to Wu.
"Our partners in Lebanon and Qatar have had a strong presence in the local market, with experience to help us quickly gain market share and increase popularity," said Wu.
According to Wu, GAC Motor will open more sale centers in Bahrain and Iran in September, aiming to sell 5,000 cars this year in the overseas market.
"We will improve job training in overseas sales centers and establish an after-sales system to better serve our overseas customers," said Wu.
Currently, the company sells sedans including GA3, GA5 and GS5 to more than 10 countries and regions including the Middle East, South America, Southeast Asia and East Europe. It plans to bring more varieties including GS5 Super to the overseas market, according to Wu.
The company also plans to establish sales centers in Russia. "Some Chinese car producers have been hit by the depreciation of the Russian rouble as they are shipping low-quality products to the market," said Wu.
Based on the company's rising brand recognition overseas, GAC Motor will attach more importance to Russia, which is traditionally a major market for European brands, according to Wu.
The company also plans to sell cars in Nigeria and Southeast Asian countries, and is looking for opportunities in developed European and North American markets.
"We are in talks with potential partners in North America, which is a major testing ground for leading international car brands," said Wu.
According to Wu, the company will develop more high-end varieties that meet the market-entry requirements in terms of safety and emissions in North America.
"We will participate in major auto shows in developed markets to promote our brand," said Wu.