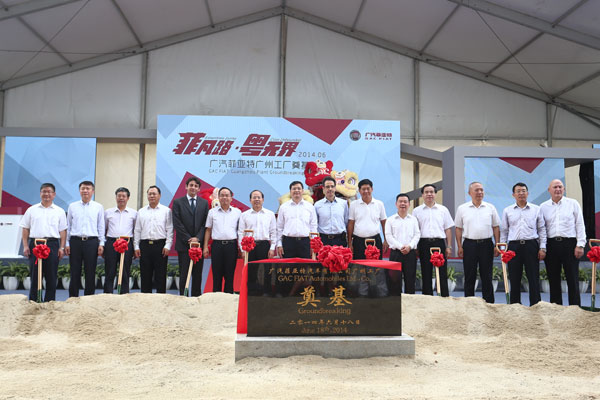 Attendants pose for a photo at the GAC Fiat Guangzhou plant's ground-breaking ceremony on June 18, 2014 in Guangzhou, Guangdong province. [Photo provided to chinadaily.com.cn]
GAC Fiat's second plant broke ground on Wednesday in Guangzhou, Guangdong province. The new plant is set to start producing the latest Jeep global models beginning June 2016.
The Sino-Italian joint venture will invest more than 4.23 billion yuan ($680 million) in the new plant that has an expected annual production capacity of 160,000 units.
GAC Fiat Automobiles General Manager John Burton believes the Guangzhou project will be one of the most advanced plants in the province, and the company will build the plant in accordance to Fiat Chrysler Group's global standards.
"The new plant will make highly competitive products, and all of them will be global vehicles," said Burton.
GAC Group General Manager Zeng Qinghong said the project, with world-leading techniques, technology and facilities, will show that the cooperation between GAC and Fiat Chrysler Group has moved to a higher level.
The new plant will start in 2016 with one shift production, making 45 cars an hour, and then add consecutive shifts at a later point.
GAC Fiat Automobiles was jointly incorporated on March 9, 2010 by GAC Group and Fiat Group Automobiles S.p.A.
The Chinese market is now Jeep's second largest market in the world after the US, so the new plant's first priority is to satisfy the Chinese local market.
This year the company sold 26,934 units in the first five months, out of its 28,752 units produced, and was found to be in accordance to GAC Group's monthly report filed with the Hong Kong Exchange.
In 2013, GAC Fiat had a realized revenue of 5.05 billion yuan by Dec 31, 3 billion yuan more than the 1.97 billion yuan revenue in 2012, according to GAC Group's 2013 annual report filed with the Hong Kong Exchange on April 24.
On March 20, 2014, the Board of Directors approved an additional capital contribution of 1.8 billion yuan to GAC Fiat.