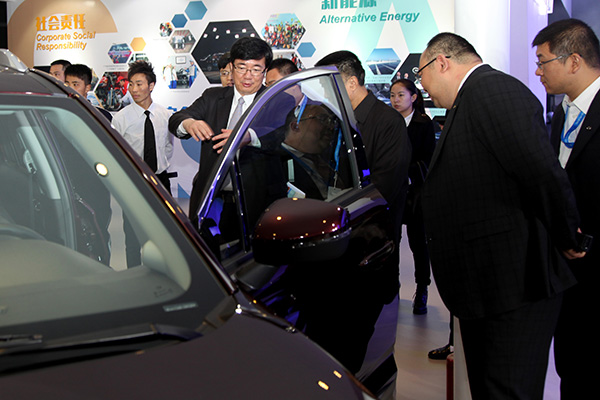 Wu Song (fifth from left), general manager of GAC Motor Co, introduces the company's GS4 sedan to visitors at a recent auto fair in Shanghai. [Photo provided to China Daily]
The car engine factory was to become a role model for Toyota's overseas projects. Engines developed by Wu's team were even exported to Japan.
Then, the onerous responsibility of developing a homegrown car brand was thrust on his shoulders. "For me, it was a greatly challenging job. I had never worked in a car production line."
Wu visited libraries and bought many automobile books to broaden his ken. During the construction phase, he would visit the factory site in the Panyu district of Guangzhou every weekend. "I realized it was a dream come true for me, in terms of gaining a once-in-a-lifetime experience," he said.
And when the first car rolled off the assembly line, Wu, along with hundreds of his team-members, resolved that they would make only quality vehicles for users, and never compromise on this aspect, no matter what.
"Technology and safety, which are boosted by innovation and efficient management, helped promote our brands. That's why, the company's sales increased sharply in recent years," Wu said.
Small wonder, GAC Motor went on to establish a global research and development network and an international supply chain, with a sales network covering 18 countries and regions.
Following its fast growth, domestic and foreign media hailed GAC Motor's success as a miracle. Bloomberg Business honored the company by giving it "the fastest growing Chinese automaker" award in 2015.
Wu did not allow higher sales to become his goal. He raised the bar. He dreams of Chinese vehicle-makers playing a leading role in domestic and overseas markets in the near future.
"Foreign brands cannot always be the leading players in the Chinese auto market, which will be dominated by domestic brands in the years ahead," Wu said.
Wu's prediction could well come true, if local auto companies' recent performance is any indication.
Sales of GAC's star SUV model, the GS4, which was launched in the Chinese market in April 2015, surpassed 30,000 units in January this year, according to the company's source.
In global terms, GAC Motor is still a young Chinese carmaker. Yet, its overseas sales grew by 38 percent year-on-year in 2015, with the Trumpchi brand getting widely recognized in West Asia.
"My bigger dream is to see China-made cars becoming competitive in both domestic and overseas market in the near future," Wu said.