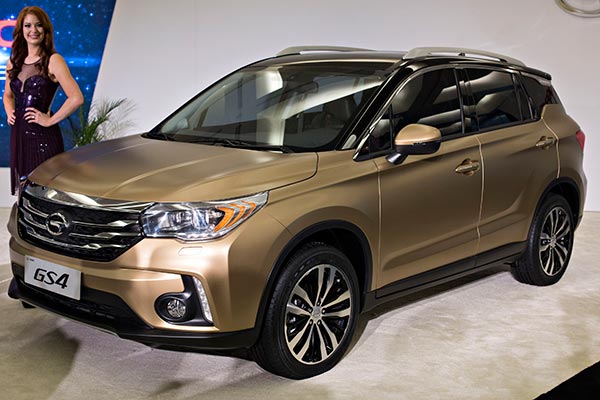 The GS4 SUV has been a hit since it entered the market in April.[Provided to China Daily]
A Guangzhou-based auto brand is aspiring to join the ranks of China's top automakers within five years as its efforts in design and quality pay off.
GAC Motor, a division of the State-owned Guangzhou Automobile Group, realized its 2015 sales target of 160,000 units in November and is expected to see the figure reach around 185,000 by the end of the year, said Wu Song, general manager of the brand that was established in 2008.
The figure might not seem impressive considering the size of the Chinese auto market but it marks an average 60 percent growth year-on-year at a time when the market's overall growth rate was a meager 3.3 percent at the end of November.
Based on its rapid growth, Wu said GAC Motor would become a top three Chinese brand by 2020 in terms of sales revenue. It ranked 10th in 2014.
While some may say that goal is a bit too ambitious, Wu is convinced it is within reach as the automaker has been working hard on research and development since its establishment.
He said GAC Motor now employs 2,400 engineers and technicians and plan to have 3,000 such staff in 2016.
"High quality and superior design have played an important role in making us competitive in the market," said Wu, while holding a model of the marque's GS4.
The SUV has been a hit since it became available in the Chinese market in April. Its monthly sales exceeded 10,000 units in July and the figure more than doubled in October. Since then, it has been a top three SUV in China, with Volkswagen's Tiguan lagging behind.
"The GS4 shows we at GAC Motor have entered into Era 2.0 of our development, which represents the top standards of China's carmaking industry," Wu said.
GAC Motor has topped the list of Chinese automakers for three years in a row in JD Power's Initial Quality Study.
The automaker is expanding its product portfolio to offer more choices to customers and seize a larger market share.
"We will deliver 20 models to the market by 2020. In 2016, we will offer GS4's 1.5T version and GA6 1.5T version as well as three C-class models: the GS8 SUV, GA8 sedan and GM8 MPV," Wu said.
He said the GA8 will compete with the Audi A6, the GS8 will rival the Ford Edge and the MPV will compete with Toyota's Alphard.
Chinese automakers have never gained an equal footing in the C-class, which has been firmly occupied by international brands, but Wu said GAC Motor has positioned itself for the medium-and-high end market from its inception.
"We have brand-new platforms for the A, B, C and A0 classes and we will see if we will build a platform for D class. Our modularized platforms have slashed the time and cost of our product development. In fact, all three C-class models will roll off the same platform and that gives us a competitive advantage."
In addition to conventional cars, GAC Motor is working on new-energy vehicles. It has sold 1,200 such vehicles this year and another three plug-in or electric vehicle models will hit the market in 2016.
"We will likely sell 5,000 to 8,000 new-energy vehicles in 2016, and it will be from 2017 that our sales will surge."