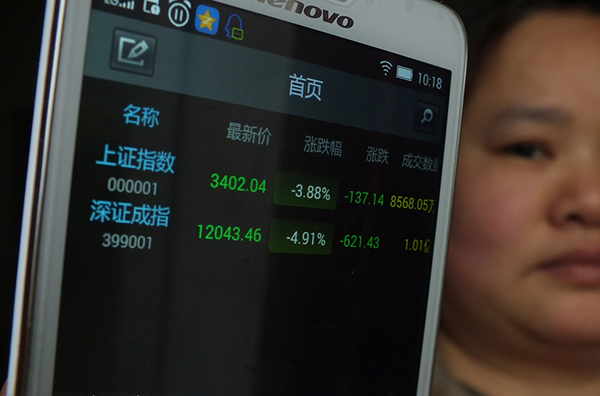 A stock indicator shows the benchmark Shanghai Composite Index and the Shenzhen Component Index on Jan 4, 2016. [Photo/IC]
The Chinese stock market slumped on Monday morning, the first trading day of 2016, as investors sought to dump shares to ward off potential volatilities.
The benchmark Shanghai Composite declined by 3.35 percent, or 118.58 points as of 10:30 am. The start-up index ChiNext in Shenzhen fell by as much as 5.6 percent.
The regulator's ban on major shareholders from selling their holdings to stem the market rout in the summer will expire on Friday, which has been haunting investors.
The circuit-breaker mechanism, a way to check abnormal price swings, officially started on Monday after the Shanghai and Shenzhen stock exchanges tested the system on Jan 1.
Trading of stocks, index futures and options will be suspended for 15 minutes when the stock index CSI 300, which tracks some of the largest-cap stocks in Shanghai and Shenzhen, fluctuates by 5 percent.
Trading will be halted for the remainder of the day when the index moves by 5 percent after 2:45 pm or 7 percent at any time during the trading session, according to the rules.