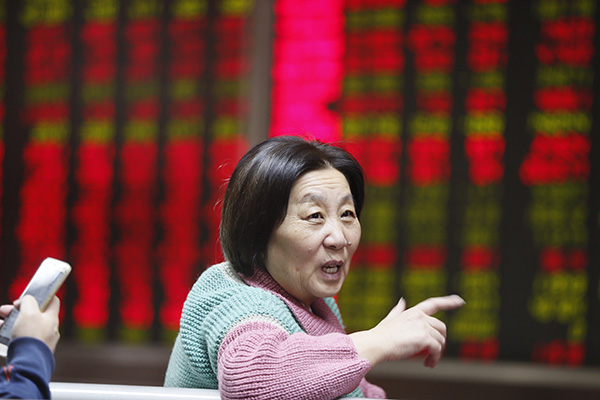 An investor at a brokerage in Beijing on Dec 7, 2015. Experts said the A-share market will be more liquidity-driven next year as policymakers in Beijing will launch more measures to stimulate the economy. [Cao Boyuan/China Daily]
China's stock market still hasn't lost its appeal despite going through a tumultuous year, said Wall Street Journal.
The Shanghai Composite Index gained 9.3 percent as of Monday close after losing as much as 43 percent of its value over the summer, heading to end the year as one of Asia's best-performing major benchmarks, according to the newspaper.
Such rally outpaced many other global benchmarks, including a year-to-date gain of 0.1 percent in the S&P 500 and a 4.7 percent decline in FTSE 100.
The Shenzhen Component Index has risen 15.2 percent this year, while the Nasdaq-style ChiNext board tracking Shenzhen-listed growth stocks surging 85.9 percent.
A number of metrics including trading volume, account openings and the amount of credit used to invest showed Chinese investors remain committed to buying stocks, as compared to times of languishing for years with investors fleeing the market, said the Journal.
Domestic investors are convinced that the government would continue to support the market, after it stepped in, buying stocks to restore market faith amid the summer rout. According to the paper, some analysts estimate the rescue cost hundreds of billions of dollars.
On signs of market stability, the regulator resumed initial public offerings in November after a five-month freeze.
China will also launch a registration-based IPO system to replace the current one based on approval in March next year to step up the role of the country's stock market and provide necessary financing for companies.
The registration-based IPO system will emphasize the information disclosure rather than corporate prospect and profitability, and companies and the market would decide IPO supply and timing.