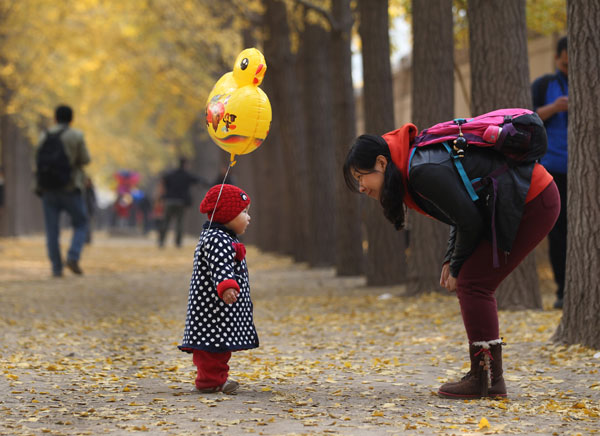 A woman plays with a girl on a street outside the Diaoyutai State Guesthouse in Beijing on Nov 8, 2013.[Photo by Zou Hong/Asianewsphoto]
Liu Nan-led billion-dollar startup mia.com symbolizes new-found entrepreneurial spirit
Editor's Note: "Innovation and entrepreneurship" have become the buzzwords in China ever since Beijing decided to encourage people to set up their own businesses and invent new business models, against the backdrop of "new normal"-slower and sustainable economic growth. Startups have mushroomed, at university campuses and elsewhere, setting up a variety of businesses, including restaurants and cafes, and creating thousands of new jobs, re-vitalizing the economy, inspiring youth. In this issue China Daily records some inspirational success stories of women entrepreneurs from Beijing, Shanghai and Guangdong province.
Former stay-home mother Liu Nan, 32 years old, clearly remembers the first day in her online business of baby products on Taobao.com in 2011 as it was eventful: sales reached a stunning 60,000 yuan ($9,174).
This encouraged Liu to steal some time from her responsibilities as a wife and mother, and continue her business. In the second year, Miya Baobei (Chinese for sweet bud baby), her online shop on Taobao.com, notched up 13 million yuan in sales of products like diapers, baby formula, toys, and garments for babies and toddlers.
That was enough to convince a venture capital firm to invest 8 million yuan in March 2014 in Liu's mia.com, a Beijing-based cross-border e-commerce firm that has already received four rounds of funding and is now valued at more than $1 billion.
Welcome to China's Internet-based businesses, the stratosphere of entrepreneurial ideas, mushrooming startups and surging valuations. Anything is possible to achieve here, it seems.
Mia.com sources overseas branded baby and mom products, including health supplements for women, and re-sells them online to mostly middle-class Chinese parents who, it appears, care for the quality of the goods sold.
"I'd say I was lucky enough to tap into the imported baby products sector before it became a big thing in China's e-commerce world," Liu said.
Encouraged by this business model, an increasing number of companies are jumping onto the online bandwagon of foreign baby products, in anticipation of a baby boom in the wake of the scrapping of China's one-child policy late last year.
This has led to cutthroat competition and price wars. But Liu's mia.com has managed to secure its market leader position so far despite the presence of China's e-commerce heavyweights such as Alibaba Group Holding Ltd and JD.com Inc.
"Unlike large e-commerce platforms, which see baby products as an important sector to boost their overall sales, we are dedicated to helping middle-class families access the best mom and baby products from abroad. That is the only thing we do," Liu said, revealing the recipe of her success.
Being a mother of a 5-year-old girl not only helped Liu spot the business opportunity in the first place but made her understand products better than male competitors.