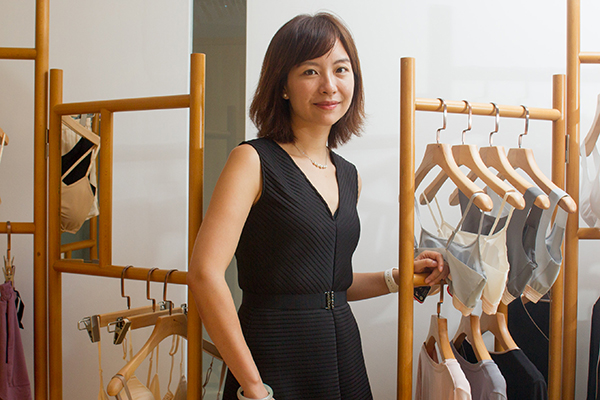 Liu Xiaolu, founder and chief executive of Neiwai, wants her business to create a brand that doesn't twist, suppress, or objectify women's bodies. [Photo/China Daily]
Liu Xiaolu, 33 years old, the soft-spoken founder and chief executive of Neiwai, a lingerie maker in China, jokes the firm's products are meant for frigid women.
The Neiwai brand of cotton lingerie have come to be known for their muted colors and near absence of accessories-plain, if not boring.
But for Shanghai's Liu, creating the polar opposite of "what the likes of Victoria's Secret have been offering" is an exciting, sexy and profitable business.
She initially worked as a strategic analyst, helping multinational companies such as Coke Cola and Estee Lauder to study the China market for more than five years. The finance graduate said the birth of her first child in 2012, however, gave "a sensibility in life".
"What I used to do, majoring in finance, working with some of the most famous companies in the world... all that has been all motivated by nothing but the fact that it is conventionally considered the best by others."
So, she decided to start her own business. And enrolled into a course she deemed the best.
She eyed the lingerie industry not only because her grandmother and mother worked with Shanghai's once most-coveted underwear manufacturer, Xinguang, for decades but because most of the lingerie available in the domestic stores was "like the old her", meant for pleasing others.
"It would be a little exaggerated to call it feminist. But I wanted to create a brand that doesn't twist, suppress, or objectify women's bodies. Instead, it makes them comfortable and happy, which I think is a higher form of sexiness," she said.
With her own savings and, later, an investment of tens of millions of yuan from China's leading investment capital, Zhen Fund, Liu started Neiwai, which is the Pinyin of internal and external in Chinese. Neiwai, she said, expresses as much about one's inside as outside.
The firm's product portfolio ranges from basic wear to sports underwear and pajamas. They are priced around 200 to 300 yuan, almost 100 yuan more than the average offerings in the China market.
Business was brisk since the beginning. Up to 80 percent of buyers are female, aged above 25, with a well-educated background and a well-paid job. The other 20 percent are "mostly husbands shopping for their wives, instead of bachelors for girlfriends or lovers".
There is not yet a brick-and-mortar Neiwai store, which is still financially and physically tough for Liu and her team of 15 women. Neiwai now sells on e-commerce websites, including Tmall.com and JD.com. Late in 2014, Liu expanded her sales channel by working with Journelle, a luxury lingerie store in New York.
Xu Xiaoping, founder of Zhen Fund, said China is missing, and craving, brands that can please women. Neiwai could fill the gap, he said. According to RTG Consulting, China's lingerie market is estimated at $20 billion, and remains dominated by domestic brands. But, Liu figured out, major brands' market share was less than 15 percent.
So, Liu has her ambition set much higher, hoping to bring Neiwai to more cities in the US and Europe, despite the strong trend for women there to celebrate their confidence and sexiness by taking off their bras.
"Bras are taken off mainly because there is restraint. But I would like to dare them to try Neiwai."