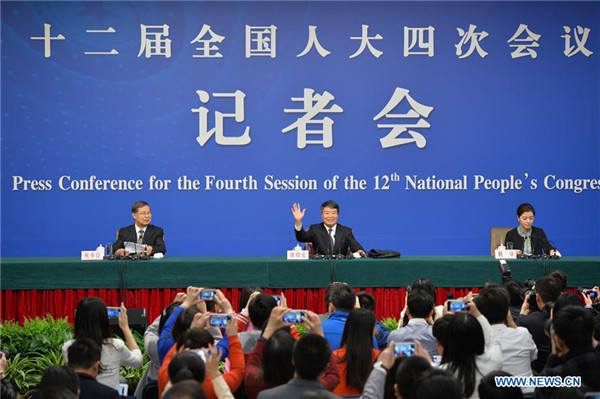 Xu Shaoshi, minister in charge of the National Development and Reform Commission, gives a press conference for the fourth session of China's 12th National People's Congress (NPC) on the country's economic and social development and the draft outline of the 13th Five-Year Plan, in Beijing, capital of China, March 6, 2016. [Xinhua/Li Xin]
BEIJING -- China's economy had a "sanguine performance" last year, a senior regulator said Sunday on the sidelines of the annual parliamentary session.
Xu Shaoshi, who heads the National Development and Reform Commission, said the economy's speed change, structure optimization and gear shift were all smooth.
Economic growth registered 6.9 percent last year, meeting the "around 7 percent" target, Xu said.
Unlike previous years when investment was a major contributor to growth, consumption accounted for 66.4 percent and investment only 10 percent, he said.
Services, rather than agriculture and industry, now account for more than half of GDP, Xu said.
Early indications this year also showed positive signs, including rising consumer prices and power generations, he said.
But China must not underestimate risks this year, he said, mentioning a slowly-recovering world economy, dipping prices in bulk commodities and geopolitical risks.
Domestic situation, including slowing growth, dropping prices of industrial goods, and declining corporate profits and fiscal revenue, has called for high alert, Xu said.
The government has a broad enough toolkit for the economy, and is doing research to prepare more policy measures, Xu said.