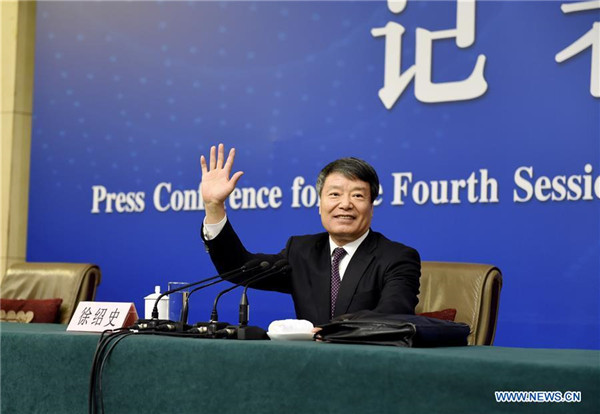 Xu Shaoshi, minister in charge of the National Development and Reform Commission, gestures during a press conference for the fourth session of China's 12th National People's Congress (NPC) on the country's economic and social development and the draft outline of the 13th Five-Year Plan in Beijing, capital of China, March 6, 2016. [Xinhua/Chen Yichen]
BEIJING -- China will not see another upsurge in layoffs like the one seen in the 1990s as China seeks to revitalize the economy by cutting industrial overcapacity, a senior economic planning official said Sunday.
"On the whole, I'm optimistic about China's job market," said Xu Shaoshi, head of the National Development and Reform Commission, at a press conference on the sidelines of the annual parliamentary session.
He cited five reasons for his optimism.
First, some enterprises have taken measures including cutting working hours and salaries to avoid laying off their employees.
Second, although China's growth speed has slowed somewhat, its economic aggregate is growing larger. One percentage point of growth in gross domestic product now translates to an addition of 1.6 million jobs.
Third, the fast-growing service industry is a reliable source of job creation. In 2015, the service sector accounted for 50.5 percent of China's GDP, the first time it has exceeded the 50-percent level.
Fourth, the growing zeal for innovation and entrepreneurship means more people are starting their own businesses. In 2015, 4.4 million new enterprises were registered. This translates to 12,000 new ones every day.
Fifth, with the development of social mobility and information exchange, it is easier and faster for people to find jobs that match their ability and interest.
The world's second largest economy is trying to revitalize its industrial sector through squeezing out redundant workers.
According to preliminary forecasts, the coal and steel sectors will see a combined laid-off workers totaling 1.8 million.
To cushion the effect of job losses on families and society, the central government will allocate 100 billion yuan ($15.4 billion) over two years to help the laid-off workers find new jobs.