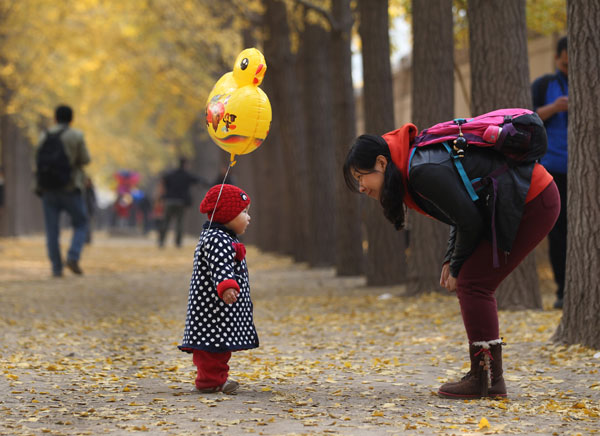 A woman plays with a girl on a street outside the Diaoyutai State Guesthouse in Beijing on Nov 8, 2013.[Asianewsphoto by Zou Hong]
Breaking into the cross-border e-commerce market has been child's play for a startup with a difference.
Mia.com has managed to muscle its way into a sector dominated by Alibaba Group Holding Ltd and JD.com Inc, which is part-owned by Tencent Holdings Ltd.
Carving out a niche spot in baby products, the four-year-old company is now valued at about $1 billion after receiving $150 million in funding from search engine giant Baidu Inc in September. Last year, its transaction volume topped 400 million yuan ($62.9 million).
"Unlike large platforms, which cover a wide range of categories, we are dedicated to helping middle-class families access the best mom and baby products from abroad," Sun Wei, chief financial officer of Mia.com, said, adding that its site has five million regular users.
Since 2011, Mia has gown rapidly and that expansion is set to continue after the government scrapped its one-child policy last month.
If there is a predicted "baby boom", the company is well placed to cash in on the market with its quality products and unique supply chain.
"For most Chinese parents, a new-born baby transforms them from price-sensitive buyers to quality-oriented consumers," Sun said. "They want to give their kids the best brands."
Yet Mia is not alone in targeting middle-class parents. JD.com and Alibaba have both launched shopping sites dedicated to selling baby products, such as diapers and infant formula.
Babytree.com has also rolled out a similar service after starting off as an "advice site" for Chinese moms and dads in 2007.
But what really makes Mia stand out is the company's supply chain policy, which allows the firm to source quality products directly from brands at low prices.
"Unlike rivals, which just function as a platform to connect buyers with sellers, we sell products ourselves," Sun said. "But we manage to cut out the middlemen and directly source brands."
Back in July, six major baby food labels, including those from Nestle SA, Groupe Danone SA and Mead Johnson Nutrition Co, agreed partnership deals with Mia.
That has opened the way for the Chinese company to buy dairy products directly from their partners' overseas branches. Before, if it wanted to import foreign baby formula, it needed to go through multi-level trading agents and distributors.
"But the deals are likely to undermine traditional retailing channels to some extent," Tan Naixun, a cross-border e-commerce analyst at Internet consultancy Analysys International in Beijing, said.
Mia is also tapping into the biggest driver of growth-choice. Most parents not only prefer foreign brands but also trust them if they are purchased outside the country.
Many feel a product's overseas brand is better than the mainland version. So Mia's partnership agreements to source labels from overseas will be a major draw card.
"A growing number of Chinese are turning to online platforms for overseas products," Sun said. "Foreign brands need to adapt to this trend."
Competitive prices have also helped Mia expand-another byproduct of its supply chain policy. "We are leveraging the Internet to shorten the supply chain, and bring the price to the same level as in foreign countries," Sun said.
Naturally, that brings him back to why leading overseas child-care companies should work alongside his fledgling business if they want to crack the market here.
"There are countless items on JD.com and Alibaba's Tmall shopping site," Sun said. "It is difficult for a new brand to stand out. But on our platform, we directly recommend products on our front page.
"We are small, so we can devote more energy to introducing new products."