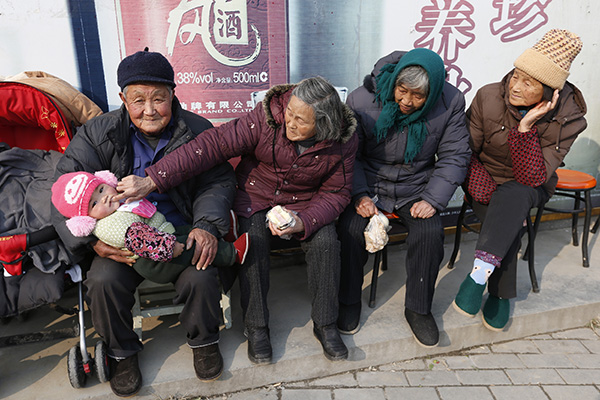 An elderly couple feed their great-grandson as two elderly women look on in Jiaxing, Zhejiang province. Many young people are not willing to have more than one child, despite the new two-child policy. [Photo/Agencies]
Don't count your chickens before they hatch. The same can be probably said of a growing market buzz about monetizing millions of babies before they are even born.
Before the public learned last weekend, after a key meeting of the Communist Party, that all Chinese couples will be allowed to have two children, some demographers and economists had already heightened their expectations about a baby boom of sorts. The experts predicted 1 million to more than 5 million additional newborns annually. The scrapping of the one-child policy, they argued, would encourage people to spend more as well as replenish China's shrinking labor pool.
One Chinese stock brokerage has projected yearly increases in births by 1 million to 2 million, which it claims could represent 120 billion yuan ($19 billion) to 160 billion yuan in consumer spending and trigger "exponential growth" for business in milk powder, toys, baby and child care, clothes and family cars.
Even real estate developers who have agonized over stockpiles of unsold big homes now seem to have the last laugh. While two-to three-bedroom flats account for most of those sold since 2006, when the government imposed a home-building ratio in favor of low-income families, four-bedroom and bigger homes are now touted as the "new normal", because developers and agents believe a universal two-child policy will prompt more parents to move up the housing ladder.
But such optimism has been based on the dubious assumption that couples will heed official calls to conception readily after the government further relaxes family planning, from allowing couples with one spouse being an only child to have two children to a universal two-child policy.
Call me a skeptic but I doubt the latest shift would prompt an upward spike in baby births, without more generous pro-family support from employers and the government, including baby subsidies, longer maternity leave and easier access to schools and hospitals.
I have checked with mothers in their 30s in my office whether they would have a second child and, if they did, when it would be. Most said "No, thanks", because they were already exhausted after raising their only child and were amazed by colleagues who plan to have a second baby.
The sentiment is not limited to my colleagues. Official statistics show that by June, only 1.5 million of the 11 million eligible parents had applied to have a second child, after the policy relaxation for the only-child parents in late 2013.
For those who worry about an ageing population and a shrinking pool of working-age people, it appears to be an urgent, losing battle because the last relaxation was intended to benefit couples who are in their mid-30s or older and who had siblings before the one-child policy was implemented in 1979.
But while some of these parents dream that their lonely only child could have a sister or a brother, many are overwhelmed by work and rising costs of living, and they fear additional pressures from a second child. Crowded hospitals, education rat race and air pollution are just examples of a harsh reality they have to deal with when rearing a child.
Younger people who were born after the one-child policy was enforced, maybe even less willing to have more than one child, due to modern social values and norms that reflect an inverse correlation between economic progress and fertility, a paradox that plagues developed societies.
As I write this column, there have been rallies in shares of some companies related to baby and child care. I hope it is rational logic, not emotion that drives investors this time round.