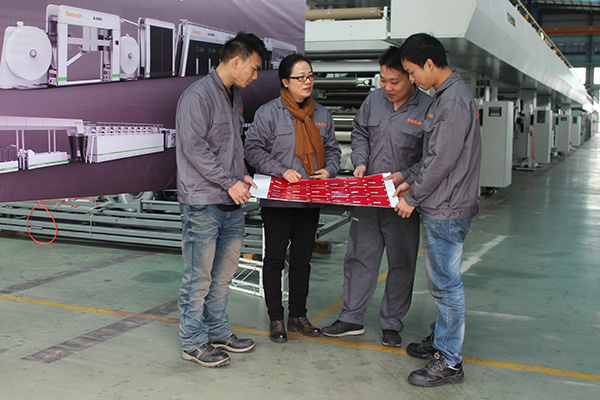 Zhang Xiaoling (second from left), vice-chairwoman of Sotech Smarter Equipment Co Ltd, works with her employees on the frontline of innovation, leading the R&D team to produce "China's first self-designed" printing-and-packing machines. [Photo provided to China Daily]
Entrepreneurship gets boost as traditional manufacturing base hones its digital edge
If you think entrepreneurship in China is limited to Beijing's Zhongguancun area or Shenzhen's high-tech companies in the Nanshan district, think again. Winds of innovation are sweeping parts of the Pearl River Delta in Guangdong province, hitherto regarded as the base for traditional manufacturers and commercial services firms.
In a sense, the innovation wheel has turned full circle in Guangdong.
As the country's pioneer of economic reform and opening up, Guangdong witnessed an upsurge in private sector activity in the 1980s and 1990s. Guangdong was a center for innovation and entrepreneurship at that time, much like Beijing, Shanghai and Shenzhen are now.
Women entrepreneurs such as Li Hua, 37 years old, and Zhang Xiaoling, 55 years old, now symbolize renewed efforts aimed at giving the old economy in the region a digital edge.
Li is the founder of a Guangzhou-based service provider that helps private enterprises with their financial accounting, tax returns filings and official websites.
Li quit her teaching job in Xi'an and came to Guangzhou, the capital of Guangdong province, in 2004 to help with her mother's wholesale clothing business and start her own accounting firm.
In 2014, in a reflex to changes brought about by technological advances in her environment, she launched a new business, an exclusive e-commerce platform called Zhenhaipifa.com, for wholesale markets.
The story of Zhenhaipifa.com makes fascinating reading.
Guangzhou, which hosts the famous Import and Export Fair (Canton Fair), has been South China's trade center for a long time.
Wholesale markets thrived in the city, thanks to its well-developed transport systems and ample supply of goods from factories in surrounding cities.
According to the latest figures published by the city government, there were nearly 700 wholesale markets in Guangzhou in January 2014 with a total annual trade volume of about 500 billion yuan ($76.35 billion).
However, these brick-and-mortar wholesale markets faced a threat from the then raging e-commerce fever in China.