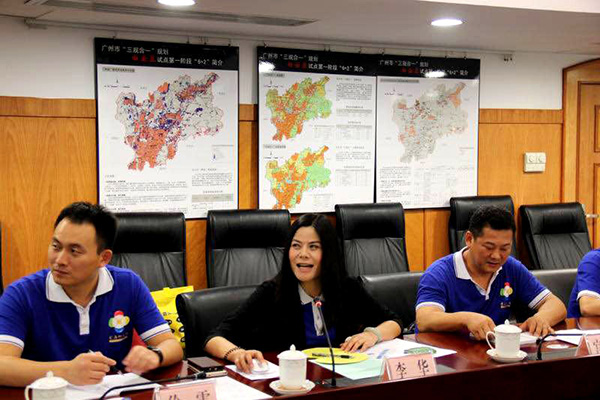 Li Hua (center) launched Zhenhaipifa.com in 2014. The website gives users an online tour of nearly 500 wholesale markets in 38 cities across China. [Photo provided to China Daily]
Li discovered wholesalers' need for professional e-commerce service around 2009 when 1688.com, Alibaba's business-to-business online platform, expanded to Guangzhou.
Many of the clients of Li's accounting firm wondered if she could provide similar services. While many entrepreneurs believe in speed in the fast-changing Internet age, Li did not rush to launch her e-commerce platform.
She waited for two years until the e-commerce technologies matured. As part of research that began in 2012, she traveled all over the country to visit more than 1,000 wholesale markets.
"I don't think faster is better. I prefer to make sure every step I take is sound and steady," Li said.
Wiser with her research findings, she launched Zhenhaipifa.com in 2014. The website gives users an online tour of nearly 500 wholesale markets in 38 cities across China.
As many as 22,410 individual wholesalers are registered on the website. Their contact details are listed as per their locations in the wholesale markets, business licenses, which are believed to have improved not only their credibility but business.
Buyers can use the website to find the wholesalers concerned to return substandard products and get refunded. By providing this feature, Zhenhaipifa.com has solved one of the biggest concerns (poor after-sales service) of wholesale business in China.
To better support wholesale markets via e-commerce, Li has added content on factories and logistics enterprises to Zhenhaipifa.com.
"Brick-and-mortar wholesale markets won't die though because buyers still regard a seller with a physical store more trustworthy (than online shops). Moreover, physical stores provide samples of commodities. But the markets must embrace the Internet, and adapt their business models to people's new consumptive habits," Li said.
"In future, the brick-and-mortar markets may become just showrooms and after-sales service centers, while promotion and deals will be made online."
Li is not the only enterprising businessperson riding the wave of new ventures in the province.
When China resumed its national college entrance examination in 1977, many graduates sought an outlet for their ambitions in the private enterprises of Guangdong. Not for them the "iron rice bowl" of State-owned enterprises.
Some of them such as Zhang Xiaoling chose to start their own businesses after accumulating years of work experience.
After graduating from the college with mechatronics as her major, she was assigned as a teacher to a school under a State-owned factory in Hunan province. In 1992, she, then 32 years old, quit the teaching job and headed south to Guangdong.