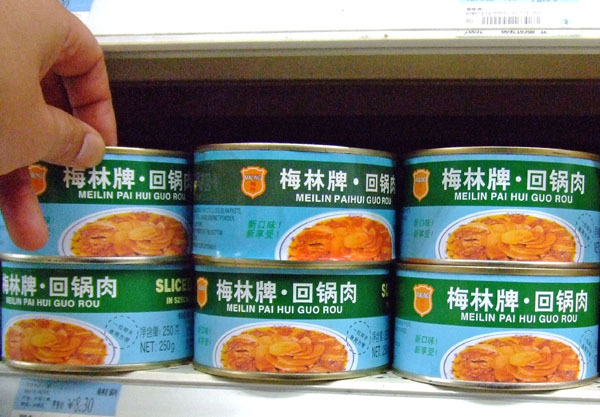 Canned pork products made by Shanghai Maling Aquarius Co Ltd at a supermarket shelf in Beijing. The Shanghai-based canned meat producer has built a strong foothold in the Czech Republic. [Provided to China Daily]
Shanghai meat producer's Czech operations continue to grow, despite rivals' copycat efforts
Heng Qidong, managing director of Shanghai Maling (Czech) A.S., says it was a combination of luck and insight that led to the Chinese canned meat producer's tremendous popularity in the Czech Republic.
"It was certainly a case of being at the place at the right time," says Heng, sitting in his spacious conference room in Maling's 40,000 square meter factory, about 80 kilometers northwest of the capital, Prague.
The factory employs about 100 workers, and has a production target of 4 million euros ($5.1 million) worth of canned meats this year, of which half is for the Czech market. Heng has the ambitious plan of increasing production to 12 million euros next year.
In fact, with a strong future focus on automation, he says his workforce could potentially increase that output to 30-50 million euros in the future.
The luck in Maling's success story comes from the strong historic trading relationship between China and the former Czechoslovakia, during which the company's products where a regular part of the average Czech's diet.
At the time, barter was the main method of product exchange between the two countries.
Czechoslovakia offered China heavy machinery, and China sent smaller, light industrial items in the other direction, including Maling meat, which developed a strong following in other Central and Eastern European markets, too.
However, the insight came from Heng's own decision to create import arrangements for Maling products into the Czech Republic in 1993, four years after canned meats from China were banned in 1989 during the break-up of the country.
"At the time, Czech consumers really liked Maling products and so creating a market-driven sales channel was quite easy as we didn't really have to work at brand promotion," Heng says.
Originally from Changchun, capital of Jilin province, Heng first arrived in what was to become the Czech Republic in 1991 in the hope of creating his own business.
Within a year he had set up local distribution deals for various Chinese food products, and in 1993 the Maling opportunity came along.
He distributed its meats in the Czech Republic until the late 1990s, when the import of meat products from outside the EU was banned, and again the meats disappeared from Czech shelves.
It was not until 2005 when along with a new growing wave of Chinese companies looking for manufacturing opportunities overseas, Maling decided to open a factory in the country, and Heng was chosen to run it.
He also invested personally in the new venture, with Maling remaining the majority shareholder.
Success was swift. Within four years the factory producing luncheon meat and premium ham was exporting all over the world, but the products remained especially popular in the Czech and Slovakian markets.