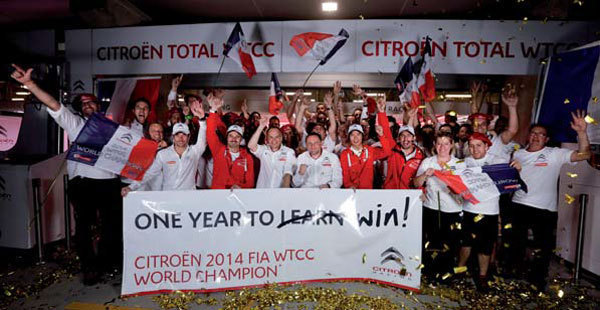 The Citroen team celebrates its win in the 2014 WTCC in Shanghai, where it took the first four places and sealed the World Touring Car Championship. [Provided to China Daily]
The Citroen C-Elysee WTCCs recorded a stunning one-through-four result in Shanghai to take the World Touring Car Championship as Jose Maria Lopez won the race followed by Ma Qinghua, Yvan Muller and Sebastien Loeb.
The unprecedented clean sweep ensured Citroen became the Manufacturers' World Champion.
Though it has won five Cross Country Rally World Cups and eight World Rally Championship titles, the result in Shanghai brought Citroen its first international championship on the track.
In the Drivers' World Championship, Lopez moved another step closer to the title. He has the chance to win it all at the next round in Suzuka, Japan on Oct 24 to 26.
The four Citroen C-Elysees regrouped just before the checkered flag, creating a historic moment for the brand as Lopez, Ma, Muller and Loeb secured the title for their team.
"Citroen is extremely proud of these victories and this world title," said Julien Montarnal, director of marketing, communications and motorsport at Citroen. "The professionalism, energy and passion of Citroen Racing have enabled us to obtain results way beyond our wildest dreams.
"Winning the title in Shanghai in front of all these fans at such an extremely popular event has been the perfect scenario. China is our biggest market with one in every four Citroen cars sold here."
Yves Matton, principal of Citroen Racing Team, noted "the season isn't quite over yet, but I think we can safely say it has been a great year".
"A year that in fact began 18 months ago when we started working on this project. Whether it was in the technical center in Versailles or on the ground, the entire team spent a lot of energy making sure we were ready for the start of the championship. With a well-deigned car and a set of fantastic drivers, we have obtained some truly exceptional results. It was very emotional to record a one-two-three-four in China and to see Chinese Ma Qinghua on the podium."
Lopez, the top racer, said "it's fantastic to secure the manufacturers' title with Citroen Racing".
"It wasn't easy to win this seventh race because Ma was always behind me pushing. That just goes to show that his win in Moscow wasn't down to luck."
Ma expressed gratitude to his teammates.
"First of all, I'd like to say thank you and well done to Citroen Total," said Ma. "Like this weekend, the team has had a very successful season. The guys have done everything they could to make up for my lack of track time and it's motivating to feel so supported. Finishing second, so close to the winner, was a good result. I think that it's worth even more than my win in Moscow."