Keeping pace with China's rapidly growing automobile market, people's awareness of motorsports has been modified with a high-speed engine.
"Although there are obvious development disparities between China's motor racing industry and its counterpart in Europe, more and more Chinese racers are joining world-class contests to practice and improve their individual skills and to learn from their overseas competitors and China's local racing competitions become more global...I feel optimistic about the future of this sector in China," said Ma Qinghua, a Chinese racer from Citroën's FIA World Touring Car Championship team, during a news conference of WTCC on Saturday at the Shanghai Audi International Circuit.
"Some of the Chinese racers have done a good job and have shown potential during the contests," added Ma.
According to Ma, people, especially the young generation, can be inspired and learn the culture of motorsport though such international motor racing contests.
Ma, 26, is the youngest of the four Citroën C-Elysée WTCC drivers. In 2012, after becoming the first Chinese driver to hold a Formula One super license, he signed with HRT and tested at the Silverstone circuit. He also tested for Caterham and drove at the Shanghai International Circuit in 2013.
"Although China doesn't have as much experience of motorsport racing as Europe, it will start making profit soon. It's just a matter of time. A lot of Chinese drivers are doing very well," said Jose Maria Lopez, a driver with Citroën team.
"Ma was the first Chinese to drive the Formula One car and the first to win the champion at WTCC event in Moscow," added Lopez.
According to Lopez, the achievement made by Ma Qinghua and other drivers in China will inspire China's young generation who are keen to embrace the motorsport.
China Touring Car Championship, a localized-competition established with the name China Circuit Championship in 2004, has successfully introduced the worldwide famous WTCC into china, and managed to create a strong influence.
It was acknowledged and supported as the national touring car championship by FIA and also classified as the A level event in annual national sports competition plan by the General Administration of Sport of China.
On August 24, 2014, CTCC came to South Korea, and hosted the races at the fifth substation for the 2014 season. It is reportedly the first time that a Chinese national sports championship went abroad to participate in a race at an overseas substation.
Created by the Federation Internationale de l'Automobile after the Formula One and World Rally Championships, the four-door, two-wheel-drive saloon cars modified for racing and equipped with 1.6 liters turbocharged engine and six-speed sequential gearbox have been adopted in the WTCC.
According to the development strategy of China's motorsport for the next 10 years, which was revealed on January, 2013, on the official website of Federation of Automobile Sports of China, a systematic training system will be established. The number of registered drivers and authorized referees will reach 8,000 and 6,700 respectively.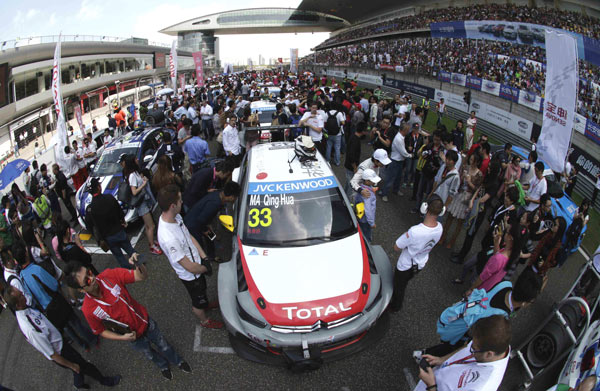 Chinese guests and journalists take photos with one of the C-Elysée cars driven by Ma Qinghua, the Chinese racer with Citroën Total of FIA WTCC, on October 12, 2014, near the starting line at the Shanghai Audi International Circuit. [Photo/Provided to chinadaily.com.cn]