Beijing's Olympic Stadium, used to the roar of a packed crowd, echoed to the roar of something completely different on Saturday.
The inaugural Formula E Championship, the world's first fully electric car racing series, was launched on a temporary track at the Bird's Nest.
The Formula E Spark-Renault SRT_01E is the first electric car to be officially recognized by the International Automobile Federation (FIA) to join the global motor racing family.
McLaren Electronics Systems provides the power to the motor and the batteries are produced by Williams Advanced Engineering, part of the Williams Group, which owns the Williams F1 Team.
"The creation of a new series and category of motorsport is like being a pioneer,"said Jean Todt, President of FIA.
Todt said China's auto industry is important to world motorsport and he met some leading lights of Chinese auto manufacturing prior the event. "There is strong interest in motor racing in China, and we'll keep encouraging that with the Federation of Automobile Sports of People's Republic of China,"he said.
Alejandro Agag, CEO of Formula E, said that in terms of attracting the younger generation, Formula E's target is maximized social interaction on the Internet, and he said that more than 100 million "social interactions"had taken place on the official Chinese website of Formula E this weekend.
The series, raced at 10 venues worldwide, features 10 teams, 20 drivers and 40 cars, with each team fielding two drivers and four cars.
"It's great to be one of the drivers, it's really a challenge to get used to the electric racing car,"said Ho-Pin Tung, one of the Team China drivers. The Dutch-Chinese became the first Chinese driver to test the Formula E Spark-Renault in April.
Tung began his motorsport career in karting 17 years ago, and won the Dutch Cup in 1999. He became the first Chinese driver to test a Williams Formula 1 car in 2003.
According to Lucas Di Grassi, winner of the inaugural Beijing ePRIX after Nick Heidfeld and Nicholas Prost crashed out on the final corner, the track around the Bird's Nest poses a challenge in getting familiar with all the turns and conditions in a very short period of time.
"There are more difficult tracks, like Macao, for example, it is longer,"said Grassi. "But, this track, when you look at the plan, it seems simple, just a couple of 90 degree corners and skims, but when you are driving, each corner has its own particularity".
After Beijing, Formula E will move on to nine more cities including Los Angeles, Miami, Berlin, Rio de Janeiro, Monte Carlo and London for the season's climax next June.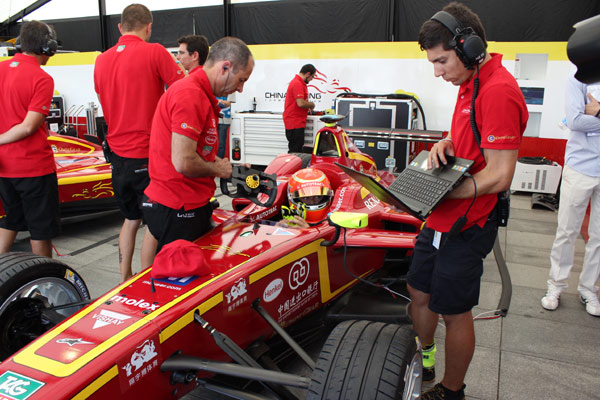 Nelson Piquet Jr. sits in his car as members of Team China prepare the vehicle in the technical area of the FIA Formula E Beijing ePRIX, Sept 13, 2014. [Liu Zheng/chinadaily.com.cn]