At 9:00 am, Sept 19, 2014, China's e-commerce giant Alibaba Group rang the opening bell at the New York Stock Exchange, marking its initial public offering on Wall Street. At the same time, on the other side of the earth, Yu Baofeng, 25, a deliveryman in Changxing, East China's Zhejiang province, has just finished his 13-hour shift.
Yu is a deliveryman in Huankan village division, Changxing county, of YT Express, one of China's largest courier services. He earns 0.5 yuan for delivering and 1 yuan for picking up a parcel. With a monthly salary of about 3,000 yuan, Yu earns more than some local graduates.
Domestic express delivery services are getting a business boost from the explosive growth of e-commerce. Currently, private express companies account for the lion's share of the market in China. According to a report released by Deloitte Touche Tohmatsu Ltd and the Development and Research Center of the State Post Bureau, 78.9 percent of market share is held by private companies, 19.9 by State-owned enterprises and the remaining 1.2 percent by foreign ones.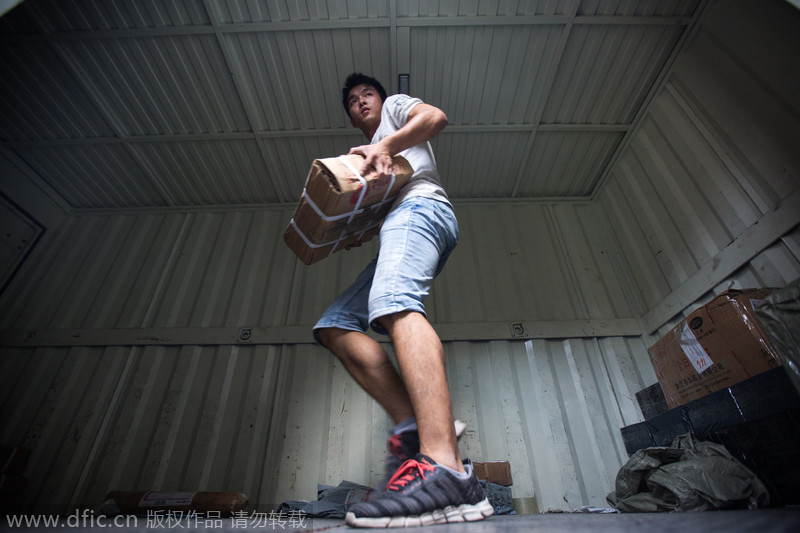 Yu Baofeng, a deliveryman of YT Express, sorts parcels in Huzhou, East China's Zhejiang province, Sept 25, 2014. [Photo/IC]