Ma Yun (Jack), 50, and his family became the wealthiest Chinese this year, according to Hurun IT Rich List 2014 released in Shanghai on Sept 25. China's number one information technology giant saw his fortune grow five times compared to last year.
Rupert Hoogewerf, chairman & founder of Hurun Report, said the emphasis in IT industry is on e-commerce.
Ma Huateng (Pony), 43, topped the list in 2013 and 2009, but now ranks second.
Li Yanhong (Robin), 46, and his wife Ma Dongmin round off the top three. He occupied the top spot in 2007, 2008, 2010, 2011, and 2012.
Here are the 10 richest IT geeks in China:
No 10 Pan Zhengmin (Benjamin), 47, and wife Wu Chunyuan
Fortune: 18.5 billion yuan ($3 billion)
Year-on-year growth: 23 percent
Company: AAC Technologies Holdings Inc
Headquarter: Shenzhen, Guangdong province.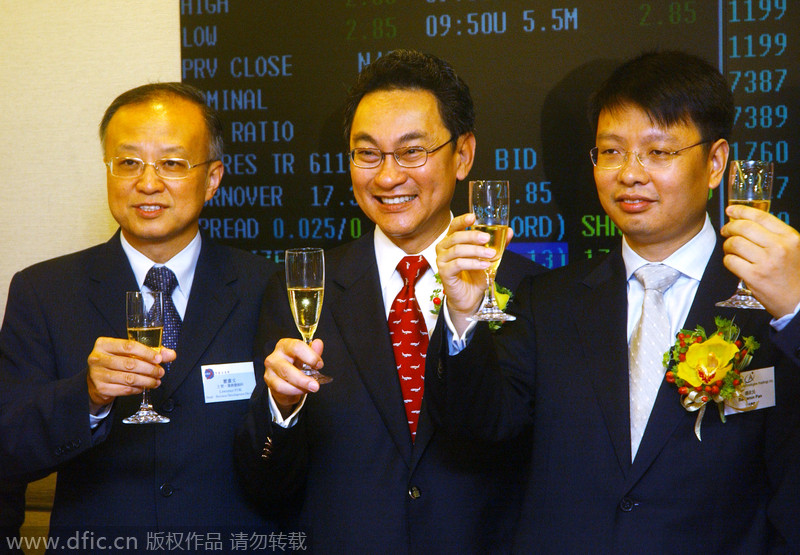 From right: Pan Zhengmin (Benjamin), Chief Executive Officer of AAC Acoustic Technologies Holdings lnc, Koh Boon Hwee, non-Executive Chairman of Sunningdale Tech Ltd, Lawrence Fok, Chief Executive of Hong Kong Exchanges and Clearing Limited, attend a ceremony for the listing of AAC Acoustic Technologies Holdings lnc. at the Hong Kong Stock Exchange in Hong Kong, China, 9 August 2005. [Photo / IC]