Although the China Racing team didn't finish at the top in the Formula E racing in Beijing, the team's two drivers have been welcomed and praised by racing crews and fans.
Nelson Piquet Jr and Ho-Pin Tung represented Team China in the 2014/2015 FIA Formula E Championship last Saturday and ranked 8th and 16th respectively in the final classification race, which was held on the temporary tracks that circle the national stadium, the Bird's Nest.
After the contest, on Sina Weibo, China's Twitter-like microblog, Ho-Pin Tung, the Dutch-Chinese who became the first Chinese driver to test the Formula E Spark-Renault car, blamed the disappointing results on technical failure, and thanked all his fans for their support during the competition.
"Anyway, keep calm and face the upcoming competitions, I think you have the talent to become China's Michael Schumacher," replied one of his fans from Nanyang, Henan province, to his tweet.
"They (the Team China) are very nice people, they should do a good job, though we want to beat them," said Trevor Carlin, one of the Racing Director of Mahindra Racing.
"We are very excited that the FIA is launching an electric car racing series and we are proud to be one of the first Formula E teams," said Steven Lu, CEO of China Racing.
"I believe Formula E is a perfect platform for China Racing and our key partners to get involved in the future of motor sport. Our presence in the Championship will encourage millions of Chinese fans to follow the series," Lu added.
Authorized by the Ministry of Sports of China, Team China Racing started in 2004 as one of the A1GP Teams.
The team has competed in several different international racing series, including A1GP, Superleague Formula and FIA GT1, and has supported many Chinese drivers, such as Qinghua Ma, Cong Fu Cheng and Ho-Pin Tung.
After this Round One race in Beijing, Formula E will move on to nine more cities, including Los Angeles, Miami, Berlin, Rio de Janeiro, Monte Carlo and London for the season's climax next June.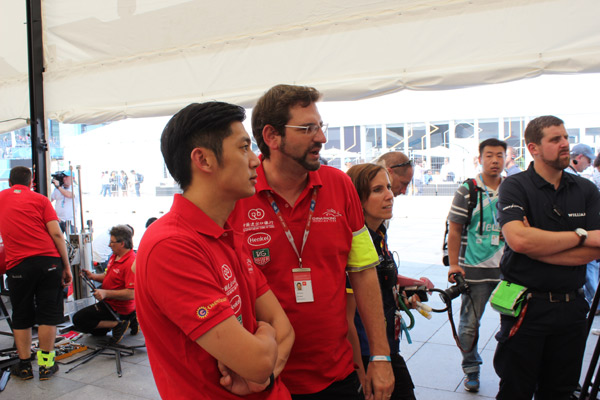 Ho-Pin Tung of Team China watches a screen with his technical support team. [Liu Zheng/chinadaily.com.cn]