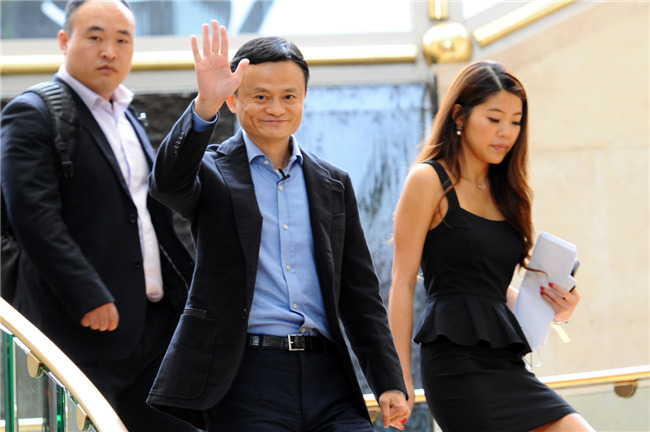 A relaxed-looking Ma waves to the media outside a Singapore hotel on Tuesday. [Photo/Xinhua]
SINGAPORE -- Jack Ma, founder and executive chairman of China's e-commerce giant Alibaba Group Holding Ltd., showed up in Singapore on Tuesday for a roadshow in the city state for its initial public offering (IPO).
A potential investor at the roadshow who does not want to be named said Ma talked about the growth strategy of Alibaba, which operates online platforms such as business-to-business Alibaba.com, business-to-consumers Taobao.com and the TMall.com selling brand products, and answered questions raised by potential investors.
In particular, the charismatic Ma also talked about the growth potential of the company in the Chinese domestic market, especially that of the third-tier and fourth-tier cities as the company expands further.
The roadshow saw some 150 potential investors from the region, said the investor who attended the roadshow. Joining Ma were Alibaba's Executive Vice-Chairman Joe Tsai and Chief Executive Officer Jonathan Lu.
The offerings of the company had been "very well received," said Adrian Toh, an investor who attended the roadshow.
Alibaba revised plans for its initial public offering in the United States on Monday, announcing in a filing with regulatory authority that it had raised the price range for its American depositary shares to be between $66 and $68 per share. Earlier this month, the company had said it expected its shares to be priced between $60 and $66.
Based on the price of $68 a share, the company would have a valuation of around $168 billion, which is "still well below the (previous) market expectation," said the investor who attended the roadshow in Singapore.
Alibaba is expected to be one of the largest companies listed on the New York Stock Exchange. The market consensus had put the valuation of the company at some $200 billion, according to media reports. The company could raise more than $25 billion, making it one of the largest IPOs in history.
Alibaba raised its IPO price range as potential investors showed strong interest in the shares of the Chinese e-commerce giant, which has been known as a leader in the Chinese e-commerce industry that transformed the businesses with a whole eco-system that includes not only the shopping platforms but also online payment tools and a credit information system.
Alibaba began its IPO roadshow last week and kicked off its Asian roadshows in Hong Kong on Monday. The company is expected to start trading on the New York Stock Exchange as early as Thursday.
Separately, Alibaba and Singapore Post announced a deal in May that Alibaba paid about $250 million for a 10.35 percent stake in SingPost. The two companies were also considering cooperations in e-commerce logistics.