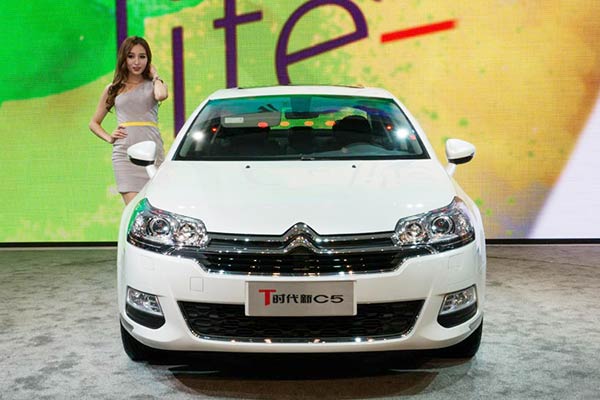 A model poses next to the Dongfeng Citroen New C5 Turbocharged edition at the Chengdu Motor Show 2014 held in Chengdu, capital of Sichuan province, Aug 29, 2014. [HaoYan/chinadaily.com.cn]
Sino-French car maker Dongfeng Citroen has turned its flagship C5 sedan more powerful and smarter by loading it with the latest 1.6-liter turbo high pressure (THP) prize-winning engine, and STT smart stop-and-start- system. The new version also enables Citroen Connect system's on-car Wi-Fi.
"The earlier C5 received wide recognition from customers. The New C5 has improved its on-car technology. These changes will drive its monthly sales volume to 4,000 or even 5,000 units," said Chen Xi, Dongfeng Citroen general manager, in an interview during the on-going Chengdu Motor Show.
The new C5 suggested price ranges from 19,190 to 23,690 yuan, and the two 1.6-liter THP versions are priced at 20,290 and 21,990 yuan.
THP turbocharged engine
The joint venture's flagship model loaded with THP turbocharged direct injected engine has been jointly developed by PSA Group and BMW Group. It is believed to further accelerate the starting-up, sustain the power output, and boost fuel efficiency.
The new 1.6THP engine significantly diminished the turbo charging lag, by employing 200bar high pressure direct injection, twin-scroll turbo charge technology. The turbo starts working at 1,000 rounds per minute, and the torque peaks at 1,400 rpm to 245 Nm, with its maximum output of 123 kW at 6,000 rpm.
The STT system will save fuel consumption by as much as 15 percent and lower waste gas emission, compared with the version that did not have the system.
Citroen Connect system
The carmaker's latest connectivity system is positioned as an on-car secretary with one-touch navigation, real-time road situation, emergency call, etc.
A user can connect mobile devices through the on-car Wi-Fi function which is currently exclusive among all the B class cars.