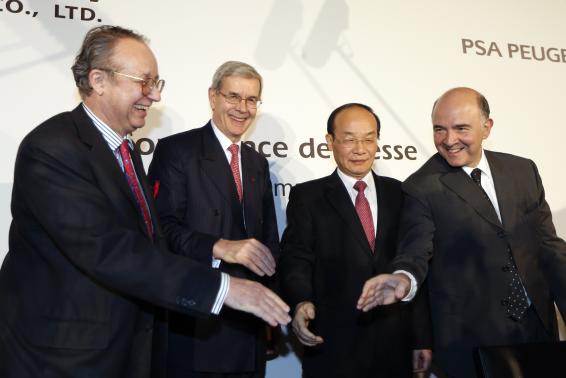 From L-R: Robert Peugeot, director of the board of French carmaker PSA Peugeot Citroen, Philippe Varin, outgoing Chief Executive Officer of PSA Peugeot Citroen, Xu Ping, Chairman of Dongfeng Motor Group Company and French Minister of the Economy and Finances Pierre Moscovici attend a news conference in Paris, March 26, 2014. [Photo/Agencies] 
PARIS - PSA Peugeot Citroen's tie-up with China's Dongfeng was signed on Wednesday, bringing the French carmaker much-needed cash and greater access to Asia but leaving major challenges ahead.
French President Francois Hollande and visiting Chinese counterpart Xi Jinping oversaw the signing of a framework deal for State-owned Dongfeng Motor Group and the French government to take matching 14 percent Peugeot stakes in a 3 billion euro ($4.1 billion) capital increase.
New Peugeot CEO Carlos Tavares must now turn around unprofitable
Europe
an operations, halt persistent
Latin America
n losses, deliver on China plans that many consider ambitious and treat a Russian headache that may be about to worsen.
The tie-up allows Peugeot and Dongfeng to extend their existing Chinese joint venture to co-develop vehicles, ramp up production to grab a bigger share of the world's largest auto market and export their cars around Asia.
After Wednesday' signing ceremony President Hollande said that deal makes Peugeot "a carmaker of global dimensions that can be present on all markets".
"This is no longer just about selling, it's about investing together," he said.
Tavares, former second in command at rival French carmaker Renault, takes over as CEO next week, with Thierry Peugeot bowing out as chairman in a deal that had pitched him into public conflict with cousin Robert over the dilution of the family's stake and loss of control.
"When you pass major milestones it's normal that there be discussions and differing opinions," Robert Peugeot, who heads the family's holding company FFP, said in a radio interview. "But when the day comes for decisions, they are taken unanimously."
China targets
With losses mounting almost everywhere else, Peugeot has high hopes for China, pledging a near-trebling of sales with Dongfeng to 1.5 million vehicles in 2020.
In a second Chinese venture with Changan, Peugeot expects to sell out its annual production capacity of 200,000 upscale DS vehicles by 2016, a spokesman said as the company prepares to roll out a new DS5 LS mid-size sedan.