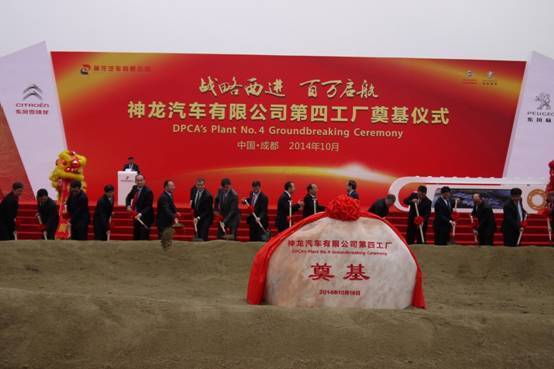 Executives from Dongfeng Peugeot Citroen Automobile Co Ltd  and officials from Chengdu municipality break ground on the company's fouth manufacturing plant in Chengdu, capital of Sichuan province, Oct 16, 2014. [Photo by Wang Jingjing/chinadaily.com.cn]
Dongfeng Peugeot Citroen Automobile Co Ltd broke ground on Thursday for the company's fourth plant in Chengdu, Southwest China's Sichuan province. The company is a joint venture of French carmaker PSA Peugeot Citroen and Chinese automaker Dongfeng Motor Corporation.
The carmaker invested 12.3 billion yuan ($2 billion) in the new plant located in Longquanyi district, east Chengdu. The plant is scheduled to start operations in 2016. Once completed, the plant is expected to have an estimated annual production capacity of 360,000 vehicles.
"It is expected that Dongfeng Peugeot Citroen's annual production will reach more than 1 million soon, and hit 1.5 million by 2020," Dongfeng Peugeot Citroen's General Manager Qiu Xiandong said.
The new plant will mainly manufacture vehicles for the Peugeot, Citroen and Dongfeng's Fengshen brands, with a focus on high-end sport utility vehicles and multi-purpose vehicles.
Qiu says that the company is in need of the models to tackle the market segments with huge potential.
The Sino-French joint venture now has three plants operating in Wuhan, capital of Central China's Hubei province, with a total annual production capacity of 600,000 units.
In October, the carmaker witnessed its accumulated car sales exceed 550,000 units, surpassing the total number of sales in 2013. The company is now targeting 700,000 units in annual sales.
Qiu says that the fourth plant, which uses advanced technology, is highly efficient and environmentally friendly. He says that the construction signals DPCA's move to target western China's market.
When questioned about a possible fifth plant, Qiu said the company hasn't drawn up a plan yet.