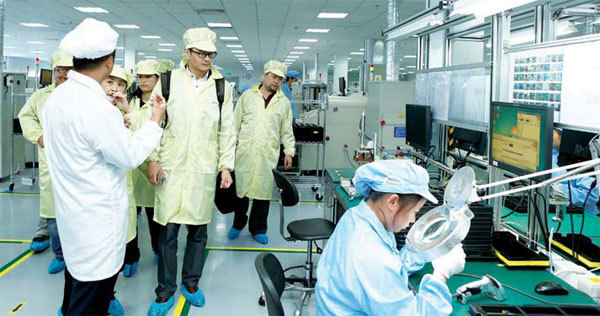 Britain's Laird PLC opened its telematics plant in Shanghai on Oct 15, 2014. [Provided to China Daily]
Britain's Laird PLC has opened a new telematics plant in Shanghai to meet the growing demand for connectivity from automakers.
The $5 million plant is designed to produce 20 million vehicle antennas and other telematics components each year, said Laird CEO David Lockwood at the facility's opening ceremony on Oct 15.
Some 80 percent of the plant's products will be exported while the rest are to be sold on the Chinese market, said Barry Shen, general manager of the new plant.
But Shen said the Chinese market is growing rapidly and the figure will grow to some 30 percent in five years, adding several local automakers including Great Wall have become its customers.
In addition, the plant will also start producing smart antennas for passenger vehicles from 2016.
"Such products reduce the use of cables and connectors and lower radio frequency interference," said Shen.
"To put it simply, they allow drivers and passengers have better access to cellular and Wi-Fi signals even when the vehicles are running at a higher speed."
Jim Ciccarelli, director of the company's machine-to-machine segment, said smart antennas are also easy to upgrade from 3G communication technology to 4G.
Ciccarelli said smart antennas are already widely used in trucks, but have a "very low" penetration rate in the passenger vehicle industry.
He said a major reason is the antennas' size might affect the vehicles' appearance, so the company is trying to make them smaller.
Ciccarelli predicted the use of smart antennas will soon grow significantly as many automakers are preparing to use them in their cars, especially luxury models, produced from 2017.
The plant, which covers more than 17,000 square meters, also serves as a design and R&D center, according to the company.
"We have 16 engineers and all of them are Chinese. Some of them have been trained by Laird's R&D teams in the US and Germany," said Shen.
Lockwood said a local team can respond to local market changes in a faster and more efficient way, adding that all Laird's R&D teams work closely and support each other.
The company said the team at the Shanghai plant will also develop components that enable machine-to-machine communications and other emerging mobile technologies such as vehicle-to-vehicle and vehicle-to-infrastructure communications.
But Ciccarelli said it will take at least six to 10 years before vehicle-to-vehicle communication is widely adopted, although the Internet of vehicles has been a hot topic in the automotive industry for some time.