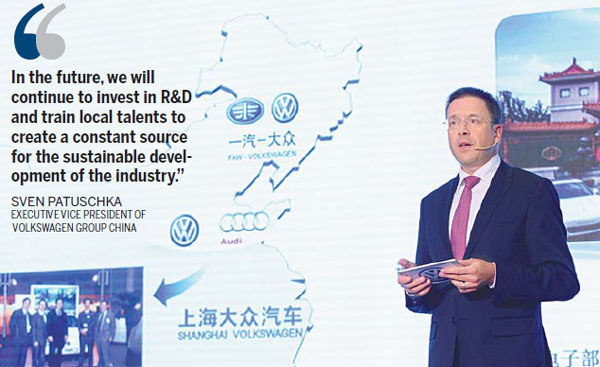 Volkswagen Group's engineers in China are doing vital work to help the brand succeed in the increasingly demanding Chinese automotive market.
The Volkswagen R&D Center in Beijing is an important site for the Volkswagen Group China and represents the interests of the brand as well as the group.
The center generates and ensures China-specific market requirements for all Volkswagen products, and ensures that every vehicle meets the highest quality standards.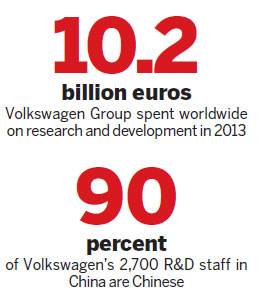 In 2013 Volkswagen Group spent 10.2 billion euros ($13.1 billion) worldwide on research and development, which ranked it first in the world.
The Volkswagen R&D Center in Beijing invited journalists from across the country to an open day on Oct 17 to experience their technologies and products and understand how the company is becoming more customer-oriented by responding to local market demands.
The center is celebrating 15 years of innovation in China this year.
The Volkswagen Group recognizes that the Chinese market is very competitive so it strives to provide the most innovative, safe and green products and technologies to customers. The company said this investment in R&D is the key to success.
The Volkswagen R&D Center in Beijing is responsible for localization and improvement and optimization of Volkswagen's most advanced technologies in China. It uses industry-related policies and local driving habits as a basis for its work, according to the company.
"In the future, we will continue to invest in R&D and train local talents to create a constant source for the sustainable development of the industry," said Volkswagen Group China Executive Vice President Sven Patuschka.
The open day highlighted the role Chinese engineers played in adapting key Volkswagen technologies, including the company's Car-Net, Driver Assistance System and innovative powertrain, to meet local needs.
In China, more than 90 percent of Volkswagen's 2,700 R&D staff are Chinese. Volkswagen provides the engineers with world-class training.
The engineers combine the training with their knowledge of local conditions to help Volkswagen adapt to the Chinese market.
The Volkswagen R&D Center in Beijing supported the localization of the company's Driver Assistance System, which makes driving smarter, easier and safer, according to the company.
Volkswagen said it aimed to reduce driving accidents and offer the most convenience for drivers through the use of predictive vehicles.