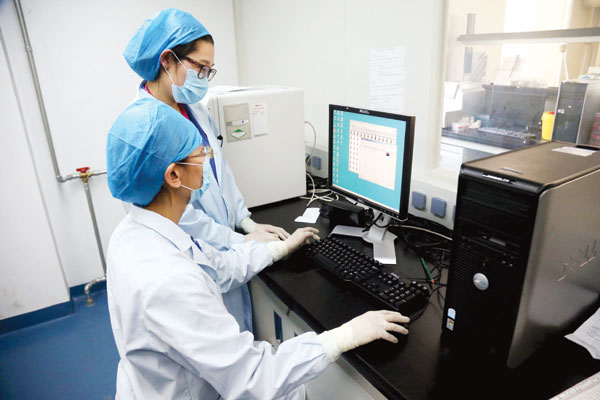 China intends to become an innovation-driven economy by 2020 and is focusing efforts on improving the nation's science and engineering sectors. [Photo/Agencies]
China moving from factory-centric to an economy driven by innovation
As China endeavors to become the world's leading innovator, several measures are already underway to achieve this goal.
In late July, the nation unveiled plans to build a 52-kilometer particle collider to study the Higgs boson, a mysterious and highly difficult-to-detect subatomic particle. Chinese researchers are currently preparing a proposal for the government which, if approved, will put China at the forefront of international particle physics, according to Physics World, a leading international physics magazine.
The world's biggest chemical company, BASF, recently broke ground on a new $110 million extension of its Innovation Campus Asia Pacific at its Pudong site in Shanghai. A key part of the extension will be a regional research and development building.
By 2020, around 25 percent of BASF's R&D staff will be based in Asia - most of them in China.
Hutchison China MediTech, the holding company of a pharmaceutical and healthcare group in China, recently started enrolling patients for a study of colorectal cancer. The announcement was hardly groundbreaking, but it highlighted advances now being made in China in the pharmaceutical sector.
Bruno Lanvin, executive director of INSEAD's European Competitiveness Initiative, says China is shifting its focus from "just putting things together. The foregoing examples are proof of these efforts".
"China knows that if it is to advance, it needs to create and innovate, and to do that you need a highly educated population," he says. "That is why a great deal of focus is now being placed on creating a knowledge-based economy, one which focuses on the sciences and engineering."
Lanvin says China is aspiring to move from "Made in China" to "Created in China".
Since China's opening-up, it has positioned itself as a global cost-effective manufacturing center. "But efficient manufacturing alone is not adequate to maintain economic growth," says the Battelle-R&D Magazine Global Researcher Survey.
"Recognizing this, China intends to evolve from a manufacturing-centric model to an innovation-based economy by 2020 ... mirroring the approach taken by the US, Europe and Japan after World War II.
"China is making steady progress at building a research infrastructure and educating the scientists to operate it. Results are impressive so far, with leading indicators of innovation rapidly approaching parity with the West," the survey says.
In the last half of the 20th century, global R&D was dominated by Europe, the United States and later, Japan.
By 2013, China had overtaken Japan in terms of R&D spending. In that year Japanese GDP measured in dollars fell sharply due to yen depreciation. Japanese R&D spending as a share of GDP fell from $202 billion in 2012 to $164 billion in 2013. Meanwhile, total Chinese R&D spending rose from $148 billion in 2012 to $166.5 billion in 2013.
Analysts forecast that by 2018 China will surpass the combined R&D spending of Europe's 34 countries. And by 2022 the nation's R&D spending is expected to match that of the US, when the two countries are likely to spend about $600 billion each on R&D.
Rajiv Biswas, Asia-Pacific chief economist with analytics firm IHS, says there is no doubt that China "is the fastest growing R&D hub in Asia".