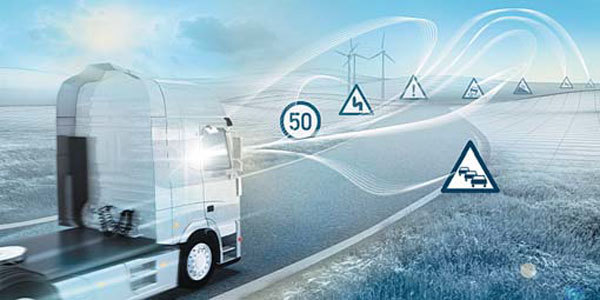 An illustration of a Bosch electronic horizon system. [Provided to China Daily]
Connectivity and autonomous driving are two major development trends to further enhance cars and driving safety, according to German technology provider Bosch.
"One of the Bosch's future R&D focuses will concentrate on the injury-free, accident-free, convenient and automated technologies, which ensure a safe, comfortable and enjoyable driving experience," said Joao Carreiro, marketing director of Bosch's Chassis Systems Control division.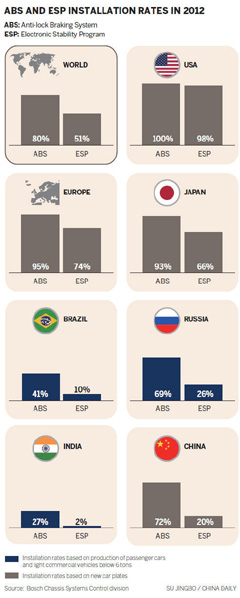 He explained that the technologies could be differentiated in four ways: passive safety, active safety, driver assistance and networking and mobility services.
"These safety related technologies have made Chassis Systems Control one of the largest businesses for Bosch, which generated 30 billion euros revenue in 2013," said Carreiro.
Although China has been the world's largest automobile market for five years, Europe is still the bigger user for safety technology, as 47 percent of the division's revenue came from the continent, while 28 percent came from Asia and 25 percent from North and South America.
"Applying these technologies will greatly help China reduce vehicle accident injuries," he said.
Statistics showed that road accident deaths continued to grow in the recent years and the countries with the largest death tolls were India, China and Brazil.
The statistics suggested that about 90 percent of road deaths were caused by driver mistakes.
The United Nations appealed to reduce road deaths by 50 percent, or from 1.9 million to 0.9 million annually, between 2010 and 2020, and Carreiro said Bosch products could help do this.
In 1978 the company invented the Anti-Lock Braking system, or ABS. It was the first automated system that allowed wheels to maintain tractive contact with the road surface according to driver inputs while braking. The system prevents wheels from locking up and avoids uncontrolled skidding.
In 1995 the Electronic Stability Program. or ESP, which avoids 80 percent of uncontrolled sideslips, hit the market.
"Nobody operating the car is the ultimate and ideal target of autonomous driving. All the connectivity and assistance technologies for safety concerns are necessary and step-by-step to achieve that goal," said Carreiro. "And Bosch is leading the pack."
Bosch believes the route from driver assistance to complete autonomous driving can be split into three phases.
The first stage, which requires the driver to continue to control the vehicle and is partly supported by automated technologies, is well underway.
For example, the semi-automated parking supportive system - park steering and park maneuver control, which several existing cars are equipped with, still need the driver to control the accelerator pedal.