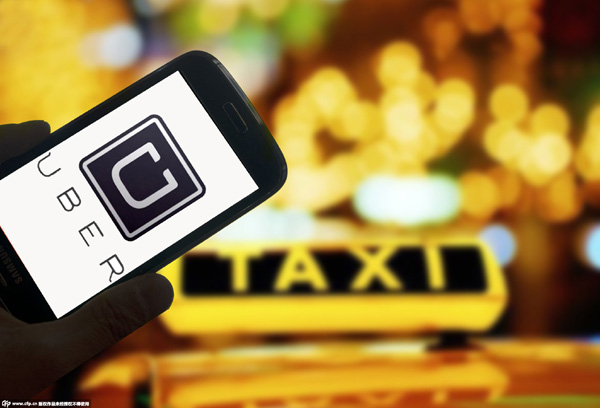 Uber's offices in Chengdu and Guangzhou are raided and inspected as the company failed to abide by administration regulations. The ride-sharing service provider allegedly hired unlicensed private vehicles for business. [Photo/China Daily]
Controversial services draw ire of taxi drivers
With the spread of smartphones, traffic congestion, improved service and cheaper rates, Uber and similar car-hailing apps are becoming popular in China's major cities, amid a shortage of taxis.
The apps, which allow customers to submit a trip request to crowd-sourced taxi drivers, have challenged the traditional taxi business and are drawing resistance from taxi companies and drivers.
Such apps have been a topic of controversy nationwide because of the lack of relative laws and regulations.
The Shanghai Municipality announced on May 20 that car pick-up services ordered via the internet or mobile apps are legitimate, with the exclusion of Uber's car-sharing platform.
Earlier this month, Uber's offices in Chengdu and Guangzhou were raided because it failed to abide by taxi administration regulations. The ride-sharing service provider allegedly hired unlicensed private vehicles for business, which is illegal in China.
The US ride-sharing network, which is headquartered in San Francisco, came to China in 2014 and reportedly has an 11-percent market share. It has been under close scrutiny by authorities in many cities across the country.
Wang Dawei, a lawyer at Junhe Law Firm who was voicing his personal opinion, said, "China's authorities would inspect Uber's role and find out if the company aided or offered help for the private car drivers' violation of taxi administration regulations."
"Car-hailing apps match passengers and taxis (private cars), which improves the efficiency of the market," said Chen Xinlei, a professor of marketing at Cheung Kong Graduate School of Business, one of the top business institutions in China .
Taxi drivers don't have a decent income and social status as they have to pay exorbitant contract fees, said Chen, who blamed the unreasonable wealth distribution inside the taxi market as the main problem. The government acts in a negligent manner by simply raising the entry barrier and fostering interest groups, he said, rather than introducing market competition.
Chen said he worries the market may turn from one monopoly to another. He thinks the market will be taken over by one or two companies in the future, if car-hailing apps take over traditional taxi company's models and the market.
Chen suggests both the traditional taxi operation model and the new model should coexist but that taxi drivers should be paid more than at present.