FreieslandCampina banks on technology, talent for continued success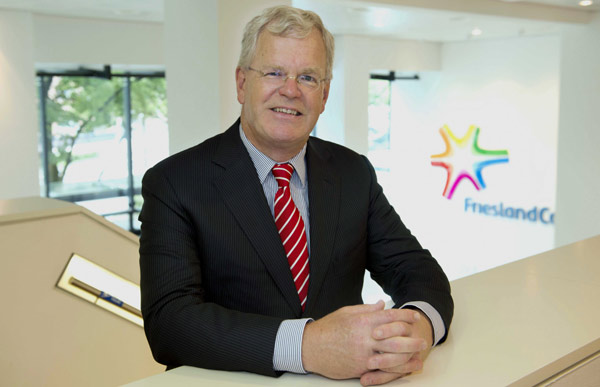 Roelof Joosten, COO of Royal FrieslandCampina. [Photo provided to China Daily]
As Roelof Joosten prepares to take the helm at Royal FrieslandCampina NV, he knows that his biggest challenge would be to keep the growth pipeline robust in China, the Netherlands-based dairy company's biggest external market.
Joosten, however, is more than prepared for the task and likens the roads ahead as one with lots of opportunities. That hope also stems from the green light for the company's infant formula joint venture and the new brand it plans to introduce in China soon.
Catching up with Joosten in Shanghai on a busy weekday, the first thing that strikes you is his imposing stature, dashing looks, ebullient smile and wealth of industry knowledge. But he can also be equally modest and unassuming when he admits that success is really a measure of the efficient use of technology and talent.
Joosten said FrieslandCampina's main focus would be to leverage its resources effectively in China's dairy market, and to effectively use his three-decades of expertise in the food sector and the more than two decades of management experience in various roles from technology to marketing.
"Quality and food safety are the key to sustained growth amid the various market swings, and it is essential to provide the state-of-the-art products through better quality, optimal use of the diverse talent and with technologies that can boost consumption," he said.
The 144-year-old dairy company has gone through various organic and inorganic expansions and owes its present structure to a merger of Royal Friesland Foods and Campina in December 2008. The company, which has marketed its products in China since 1992, is now looking to strengthen its presence further by leveraging on Netherlands "from grass to glass" dairy industry strength. Currently the China market accounts for about 10 percent of FrieslandCampina's global revenue.
China and the Netherlands signed a framework agreement on dairy industry cooperation last year, under which the European nation would help Chinese dairy producers to improve dairy product quality and quantity.
Safety factor
FrieslandCampina, which set up a subsidiary in Shanghai in 2008, has now taken its cooperation one step forward by forming a joint venture with Chinese dairy company China Huishan Dairy Holdings Co Ltd. The joint venture will manufacture, market and sell high-quality infant milk formula in China with an eye on having a fully integrated infant milk formula supply chain.
Both companies will continue to run their existing infant milk formula businesses separately. Huishan will provide high-quality raw milk from its own dairy farms in China and the joint venture will produce and market the infant milk formula.
"Huishan has strength in the upper stream of the supply chain and FrieslandCampina in the downstream, including technology, process management and marketing. We can also provide some midstream technologies," said Joosten.
The advantage of having a fully integrated supply chain means that the joint venture can take full control of the entire production process from the grass to the can and also monitor food safety, said Joosten. "It helps addresses the most important concern of Chinese consumers."