Zhaopin, a renowned job recruitment website in China, recently completed a study of white-collar job supply and demand this spring, based on the type and number of recruited positions and applications on its platform.
Spring is the busiest job-hunting season in China's labor market as enterprises compete for new talent to train at the beginning of a new fiscal year. The recruitment situation and talent pool during China's spring job-hunting season are generally indicative of general trends in the labor market for the whole year.
Senior management, IT management and project coordination, and securities, futures and investment management and services are China's top three highest-paid professions this spring, according to the report,. Average monthly salaries for these top three professions reached 13,555 yuan ($ 2,185), 9,450 yuan ($ 1,522) and 8,085 yuan ($ 1,303) respectively.
Average salary growth is expected to reach 8.4 percent this year, according to a report released by Career International, a leading recruitment services provider in China. Over the past five years, the growth rate has dropped continuously to 8.3 percent in 2014. Career International's report also said that salaries in the agriculture, high-tech, health care and education sectors are expected to grow by 9.8 percent, 9.7 percent, 9.3 percent and 9.3 percent, respectively.
Here are China's top 10 highest-paid professions during the 2015 spring job-hunting season.
No 10 Hardware development
Monthly salary: 6,455 yuan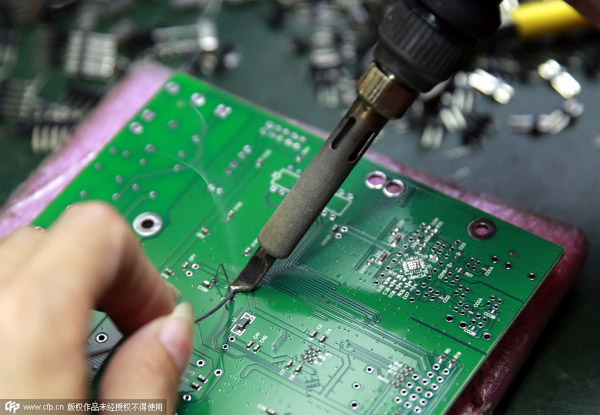 A worker inlays an electronic component on a circuit board at a firm in Jiujiang city, East China's Jiangxi province, May 13, 2014. [Photo/CFP]