Restaurants play a major part in defining the characteristics of a city. They reveal the diversity of the place, the pace of the nightlife and the financial health.
Beijing, a metropolis that is home to 20 million people and tens of thousands restaurants, from noodle stand on the street to Michelin star restaurant in luxury hotels; everyone can find their favorite food here.
Although, most restaurants in Beijing try to put as many items on the menu as possible and lack complex palate profile, but some high end restaurants put more effort in to their menu to distinguish themselves from the rest.
Here are the top 10 most expensive restaurants in Beijing.
No 10 Bai Jia Da Yuan (Bai's Courtyard)
Bai's Courtyard is an ethic specialty food restaurant located in an actual manor of Qing Dynasty's royalty.
From its bright yellow decoration to traditional Qing dynasty dress as waitress' uniforms, the restaurant tries to bring Qing dynasty's dining experience to modern life.
Location: No 29 Suzhou Street, Haidian District, Beijing
Cost: $55.45 per person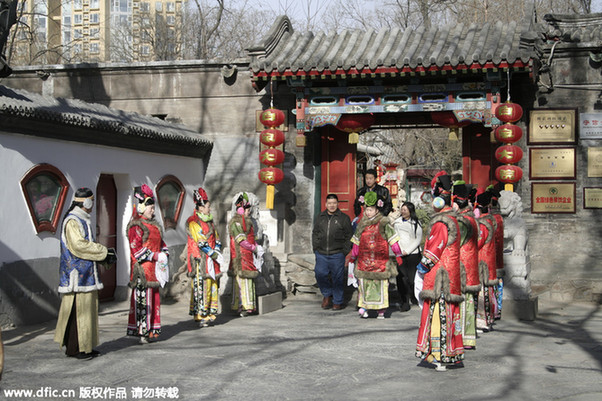 Staff dressed in Qing Dynasty costume stands in front of the gate of Bai Jia Da Yuan to greet customers.[Photo/IC]