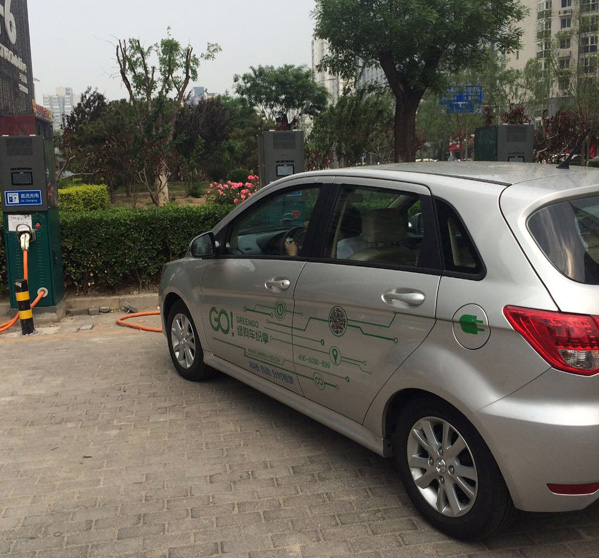 A new-energy car is being charged in a community in Beijing. The government launched a slew of new incentives to boost the use of new-energy vehicles. [Photo/China Daily]
China, which renewed a tax-exemption policy for new energy vehicles on May 18, is calling on Chinese automakers to submit a list of their models eligible for the promoting program.
The plan exempts new energy vehicle users of vehicle and vessel use tax between 60 yuan ($9.8) and 5,400 yuan a year. The eligible NEVs include pure electric commercial vehicles, plug-in hybrids and fuel cell vehicles.
A car that runs on gas is being eligible for half of the standard tax deduction in the new plan if the auto meets a certain fuel efficiency level.
Three government agencies-the Ministry of Finance, Ministry of Industry and Information Technology and Ministry of Transport-will examine information on the listed models and publish the approved cars for the public.
This program replaced the predecessor published in 2012, another major move after the State Council decided to exempt the purchase tax for NEVs from September 2014 to December 2017.
"China's new vehicle tax regime and its city-led quota regimes are all going to ratchet up the pressure on both carmakers and buyers.
The country, having already pumped money into its NEV program, now seems to be stepping up its efforts in this direction," said Ana Nicholls, a managing editor at the Economist Intelligence Unit.
The new-energy vehicles industry was highlighted in the State Council's Made in China 2025 notice that domestic-grown research and development should be realized and applied by 2020.
According to the plan, China will continue to support the development of electric and fuel cell cars, and elevate the capability in mastering, engineering and industrializing core new-energy auto technologies.