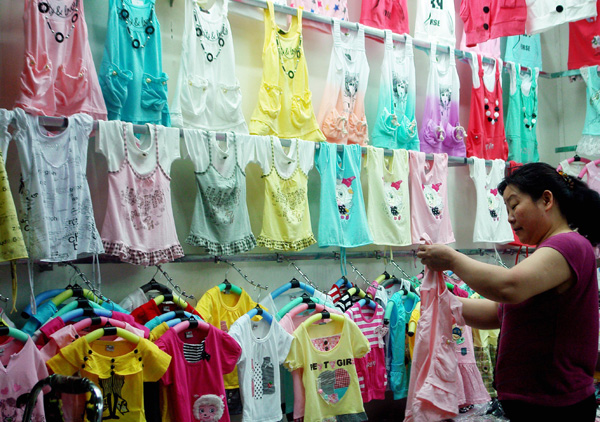 A woman looks at children's wear at a clothing market in Zhengzhou, Henan province. [Photo/China Daily]
Experts: Combination of e-commerce, offline sales best way forward for domestic industry
The fortunes of China's once-flourishing traditional children's wear manufacturers appear to be fraying at the edges as their business is snapped up by the nation's burgeoning e-commerce platforms.
In this battle with the fast rising Internet rivals, Foshan, which was once a hub of the industry, has already come undone.
Over the past 30 years, this city in southern China's Guangdong province became home to around 6,000 children's wear manufacturers and 8,000 supporting businesses, employing up to 600,000 people with an annual output of more than 600 million items of clothing-accounting for a robust one-third of the total market for this apparel in China.
Foshan has now ceded its top spot to cities such as Fuzhou in neighboring Fujian province, whose entrepreneurs were more able to recognize the potential offered by trading online, according to Su Zhen, senior Internet marketing adviser at e-commerce giant Alibaba Group Holding Ltd.
Out of the more than 1,000 children's clothing brands based in Foshan, none of them have been included in Tmall's latest business development list, and only four Foshan children's wear companies have been approved for sales on vip.com, China's largest online discount retailer.
But Foshan's children's wear firms could still see themselves back in fashion, as industry observers point out that the Web is not necessarily the only way forward.
According to Su from Alibaba, putting all of your eggs into the e-commerce basket is not a wise solution, as 78 percent of total apparel sales in China are still made offline, with e-commerce accounting for a mere 22 percent.
Therefore, children's wear manufacturers seeking to map out a strategy for future growth still need to pay close attention to the development of brick-and-mortar outlets.
This opinion was echoed by market consultancy A.T. Kearney's latest report on global retail e-commerce.
According to its analysts, physical stores remain the preferred shopping channel and where the most significant value continues to be created, as customers are able to touch and feel the products, be immersed in brand experiences, and engage with sales associates.