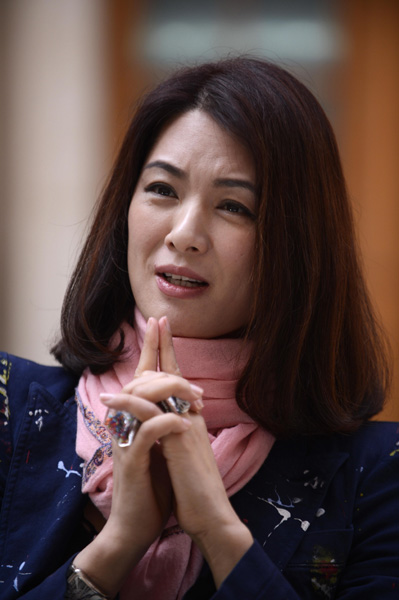 Mary Ma, chief executive officer of Maryma Haute Couture Fashion designer. [Photo/China Daily]
Leading fashion designer Mary Ma insists she has achieved success in spite of, and not, because she is a beautiful woman.
The 40-year-old former supermodel and now chief executive officer of Maryma Haute Couture believes her looks had the potential to hold back her career.
"I think there is this prejudice in China-possibly elsewhere too-that beautiful women have no insights into anything or intelligence but have only their appearance going for them. This was a problem when I first started in business," she says.
Ma, who is also a TV and film actress and an undoubted celebrity in China, was speaking over coffee in Beijing in China Daily's lobby.
The entrepreneur, who is refreshingly down to earth with an endearing dry sense of humor, says she also had a further handicap.
"I had another problem not related to being a woman. I was a former athlete and people think sports people have no profound thoughts either. So there were two things going against me," she laughs.
Hers is the type of China female business success story highlighted in the 2015 Women in Business survey by business advisers Grant Thornton.
It found that about one in three-32 percent-of business leadership roles in China are held by women, compared to just 16 percent in Germany and 20 percent each in the United States and the United Kingdom.
Ma believes some of the success women now enjoy is down to Chairman Mao Zedong's emphasis on the economic role they could play, particularly in agriculture, when New China was established in 1949.
"I think it is closely related to China's development. Before liberation in 1949, women had no power in society at all.
"It was recognized in the early years of New China what sort of role they could play. I think this led to the emergence of more powerful women, the greater opportunities there are now and the large number of women stepping into the spotlight."
But despite this, Ma feels women often face an uphill battle because of the nation's traditional culture.
"There has been unequal status between men and women in China for thousands of years, so it is not something that is easily changed even in 70 years.