Alibaba co-founder Lucy Peng (also known as Peng Lei) has been named the third-richest woman in the technology sector in the world by Wealth-X, a global authority on wealth intelligence, on April 15.
With a personal fortune of $1.2 billion, the 42-year-old executive, who heads Alibaba's new Ant Financial Services Group, became a billionaire in 2014 upon the valuation of the Chinese e-commerce giant prior to its record-setting IPO.
Hewlett-Packard chief executive Meg Whitman claimed the top spot on the list with a $1.3 billion fortune.
The net worth of the women on the Wealth-X list still lags far behind their male peers in the technology sector. Microsoft founder Bill Gates, for example, has a net worth of around $85.1 billion, according to Wealth-X estimate, while Mark Zuckerberg, the 30-year-old Facebook chairman, is worth at least $35 billion.
Below are the top 5 wealthiest women in technology sector: 
Marissa Mayer, 39
CEO: Yahoo Inc
Rank on the list: 5
Country: United States
Estimated net worth: $410 million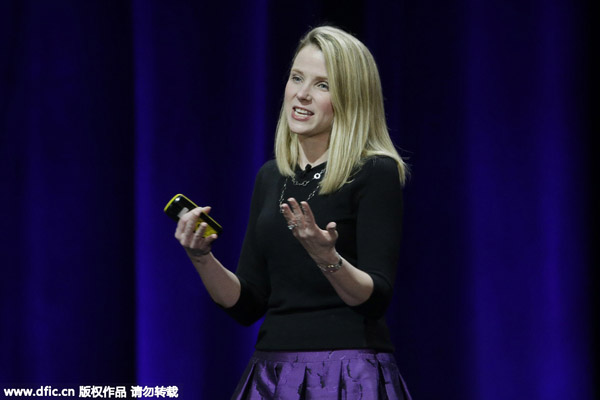 Yahoo President and CEO Marissa Mayer delivers the keynote address at the first-ever Yahoo Mobile Developer Conference in San Francisco on Feb 19, 2015. [Photo/IC]