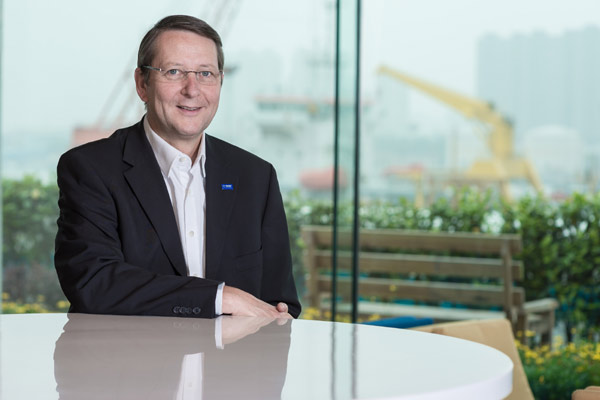 Albert Heuser, president and chairman of BASF Greater China. [Photo provided to China Daily]
Albert Heuser seems proud of the shift in his company's operations in China: "You can see that shift from 'made in China' to 'create in China' in a clearly visible way."
The president and chairman of BASF Greater China said that due to focusing on "creation and innovation", Shanghai will play a major role in the world's leading chemical giant's research and development network.
By 2020, the company plans to expand to have 15,000 researchers globally. It will put one quarter of its research resources into the Asia-Pacific region, mainly in China, totaling around 3,500 people, another quarter in the United States and the rest in Europe.
In Pudong district of Shanghai, BASF has around 500 staff working in research and development. Seeking business opportunities, it is expanding its regional research and development center. It invested 90 million euros ($98.4 million) in its second phase project, which proved to be the right move at the right time.
"The next-level laboratories and offices out of that investment are expected to operate within this year. In 2016, we will hire hundreds of researchers including many local Chinese employees, in addition to working with Chinese academia to develop more new products," said Heuser, who is also the Functions Asia-Pacific president of BASF.
"I'm very confident that we will have very strong research and development capabilities. We have decided to bring more research and development projects to China and other Asian countries, and those projects were traditionally based in Europe."
A 28-year veteran of BASF, Heuser is known for his emphasis on communications with staff. He said he gives feedback as soon as possible. "I always trigger a reflection of what we could have done better, such communication is a key tool of my leadership style, with giving encouragement and creating a positive atmosphere."
In a company that builds its success on innovation, Heuser said people are the key and people make the difference. "We have a lot of knowledge in the heads of our 112,000 employees globally, there is an expert for almost everything in the company. Sometimes the challenge is to find this expert, so it's important to get a good overview and constantly connect people with each other."
Having invented many materials including industrial scale ammonia synthesis that helped BASF scientists to win a Nobel Prize, the diversified company is now looking to serve the automotive industry and contribute to reduce emissions, and improve food nutrients and health.
According to Heuser, BASF is gearing up to capitalize on the growing demand for environmentally friendly catalysts to purify automotive exhausts, and to help reduce smog. The company will step up its manufacturing capacity so its products can quickly reach and adapt to the local market.
"We also have catalyst materials used in the filter systems of chemical plants to destroy poisonous influence, and solutions for waste water treatment," he said.
Headquartered in Ludwigshafen, Germany, BASF originally stood for Badische Anilin- und Soda-Fabrik. As a diversified manufacturer, the company pursues growth in a wide variety of industrial and consumer chemical products, ranging from petrochemicals to nutrition and health products.
Since its debut in China 130 years ago, 20 years after the company's establishment in Germany, the industrial giant has grown into a company with more than 8,000 employees in China, its third-largest market after Germany and the United States.
With a long tradition in China, the chemical manufacturer started by selling textile dyes to the flourishing cotton cloth market. Currently, it is engaged in various industries, and has invested 5 billion euros in China over the past two decades.