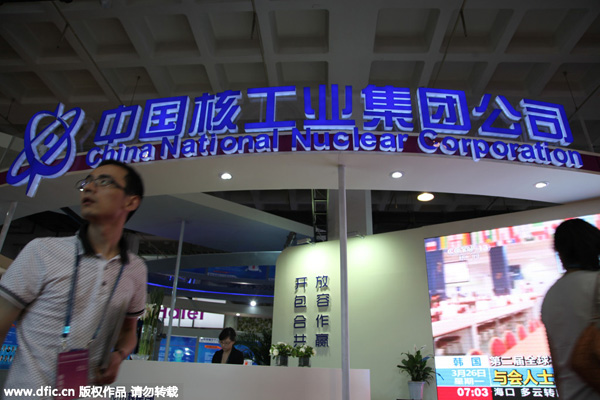 A China National Nuclear Corp stand at an industrial expo in Beijing.[Photo/IC]
One of China's top two State-owned nuclear firms plans to raise as much as 13.4 billion yuan ($2.16 billion) in what is expected to be the country's largest domestic initial public offering in five years.
China National Nuclear Power Corp is set to sell up to 3.89 billion new shares, or a quarter of its total, in the offering, according to its IPO prospectus filed with the Shanghai Stock Exchange on Monday.
The offering is expected to launch on June 2.
Media reports citing Dealogic data say the float is poised to be the largest in the domestic market since China Everbright Bank Co raised 21.7 billion yuan in Shanghai in August 2010.
Operators controlled by the nuclear power giant, in which China National Nuclear Group holds a 97 percent stake, generate as much as 40 percent of China's total nuclear energy. Including issuance-related fees, the firm will raise up to 16.3 billion yuan, media reports said.
According to the prospectus, the company will allocate 4.18 billion yuan of the raised capital to replenish its holdings of cash and will invest the rest in construction projects in Fujian, Zhejiang, Hainan and Jiangsu provinces.
Citic Securities, UBS AG and China Securities are the underwriters for the deal.
The China Securities Regulatory Commission approved the IPO along with those of 22 other companies on Friday.
The country suspended the approval of nuclear-power plants after Japan's Fukushima nuclear disaster in 2011 due to safety concerns, but the industry has since received fresh impetus after Beijing stepped up efforts to reduce its reliance on coal.
Agencies contributed to the story.